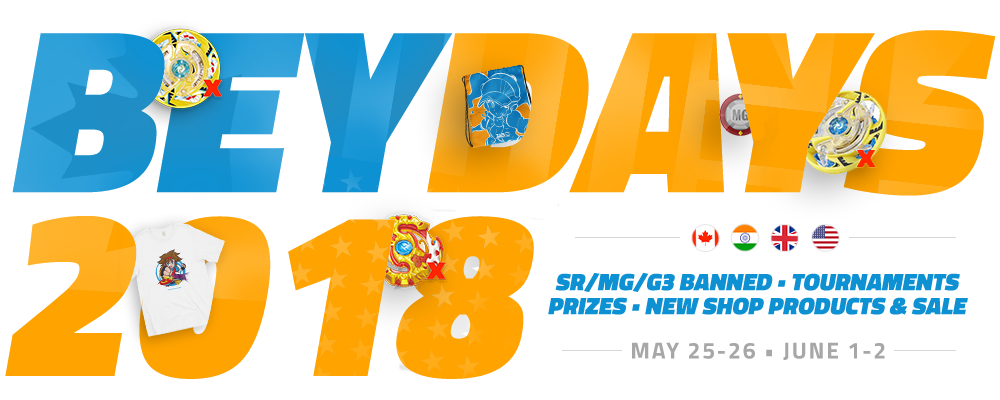 It's that time of year again! BeyDays is back once again, and this year you're in for a treat!
We're repeating our popular double-weekend format, so you have no excuses for being too busy to attend an event!
As with previous years, each region may only organise BeyDays events during one of the two weekends. Events held on the other weekend will not be counted towards any of our BeyDays festivities! Sorry!
But the main question is, which areas are participating in this year's BeyDays festivities? Without further ado...
– Saturday 26th May –

- Beyblade North 2018 (Burst) at Anime North in Toronto, ON

- Beyblade Prime 2018 at Regents Park in London, UK
– Sunday 27th May –

- Rivals Forever at Mahavir Swami Park in New Delhi, India
– Monday 28th May –

- BEYFEVER! at Yamaha Vihar Park in Noida, India
– Saturday 2nd June –

- IncrediBURST: Jack-Jack Attack! at Grand Park in Los Angeles, California
– Sunday 3rd June –
Similar to past years, participation in WBO Organised Play events over the weekend will net you a limited edition
Bit of Days IX
!

If you're in the area and free to join one of these events, be sure to hit the "Join Tournament" button on that tournament's thread! BeyDays events are always a blast, and you'll regret it if you pass up the opportunity to attend!
Don't see your region up there? There's still time! Gather some Bladers and submit a proposal to us! And don't forget...
Waived Credit Limit
As usual, all BeyDays events are exempt from the limit of Credits of 8 per weekend. That way, there's no limit to your dedication to Beyblade!
Waived Entry Fee for Emerging Areas
Any region that has been unable to host a tournament
in the last 6 months
will see the entry fee waived for its Bladers on this occasion!
---
New Competitive Bit: Metal God Bit!
It's been a while since we've introduced a new competitive Bit, so we're taking the opportunity to do so now.
Meet the
Metal God Bit
!

As the name suggests, this Bit is based on the Metal God Chip used for God Layer System releases, and now serves as the next stage of our Bit awards for tournaments hosted, following the Metal (5 Tournaments Hosted) and MF2 Bits (10 Tournaments Hosted)!
To earn this Bit, Organisers must have hosted
20 tournaments
themselves, showing their dedication and commitment to Beyblade in their community!
Think you're already eligible for this Bit? Or haven't been awarded the Metal or MF2 Bits yet?
Let us know
and we'll get these shiny Bits added for you!
---
BeyLotto — Win Huge Prizes!
Come on, you didn't think we'd run an event without a BeyLotto, did you?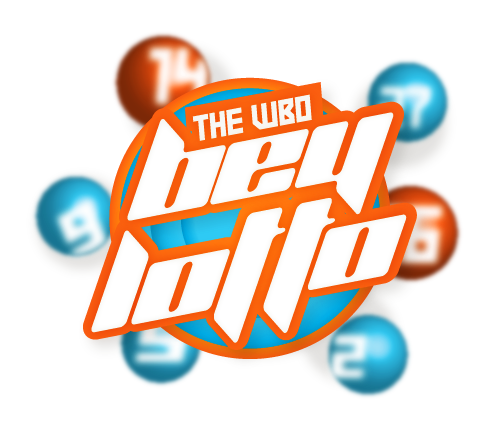 All participants entering BeyDays tournaments are automatically entered into this crazy giveaway. Therefore, the more events you participate in, the more chances you have at winning a prize! 
On top of that, participation in the "#BeySelfie2018" campaign will grant you one entry in the BeyLotto as well! No matter where you are, you can have a shot at the prizes!
As usual, Passport Holders are given the priority for the top prize, as thanks for their continued support!
All 30 randomly-picked winners will receive their choice of the following huge list of Bit Boosters: 
And 10 lucky winners will also earn themselves some awesome physical prizes!
9th-10th: 
one B-111 Random Booster Vol. 10 booster!
7th-8th:
B-112 Booster Hell Salamander.12.Op!
5th-6th: 
B-110 Starter Bloody Longinus.13.Jl!
---
Submit tournament footage, gain extra BeyLotto entries!
On top of that, this year once again,
if you film scenes at the BeyDays tournament you attend and put the footage together for the Beyblade Channel, you'll get an extra entry in the BeyLotto
! Show us the fierce competition in your community!
If you have footage please follow the guidelines outlined
here
and send it to
Kei
. If you do not have enough footage to put together for a 2-4 minute video as is described in that thread, send the raw footage to Kei through a file sharing website instead.