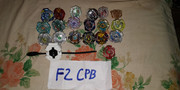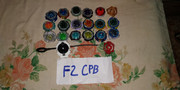 Click Picture To Get Full Size. 
Selling this lot for 85$ including worldwide shipping! If you calculate. Each bey cost just 4$! And it includes alot of starter beys too!
Payment Methods:- Message me for details
PayPal
Bank Transfer
Card to Card via site like 
this
PayTM
Notes:-
1. Xtreme, Variable and Gold Valkyrie are used. But all other parts of that bey are good condition.
2. I'm shipping from India
3. I will try to ship same or next day you pay. Do note post office are closed on Sundays.
4. Default shipping method is small packet sal. If you want I can use EMS but that will cost extra.
5. First come first serve!
6. Message me for closer pics!
7.
Trade
offers are welcome!