Beyblade Store BeybladePremier.com
Official USA Sponsor of worldbeyblade.org
worldbeyblade.org has partnered with BeybladePremier.com, a Beyblade store specializing in 100% authentic Takara-Tomy Beyblades!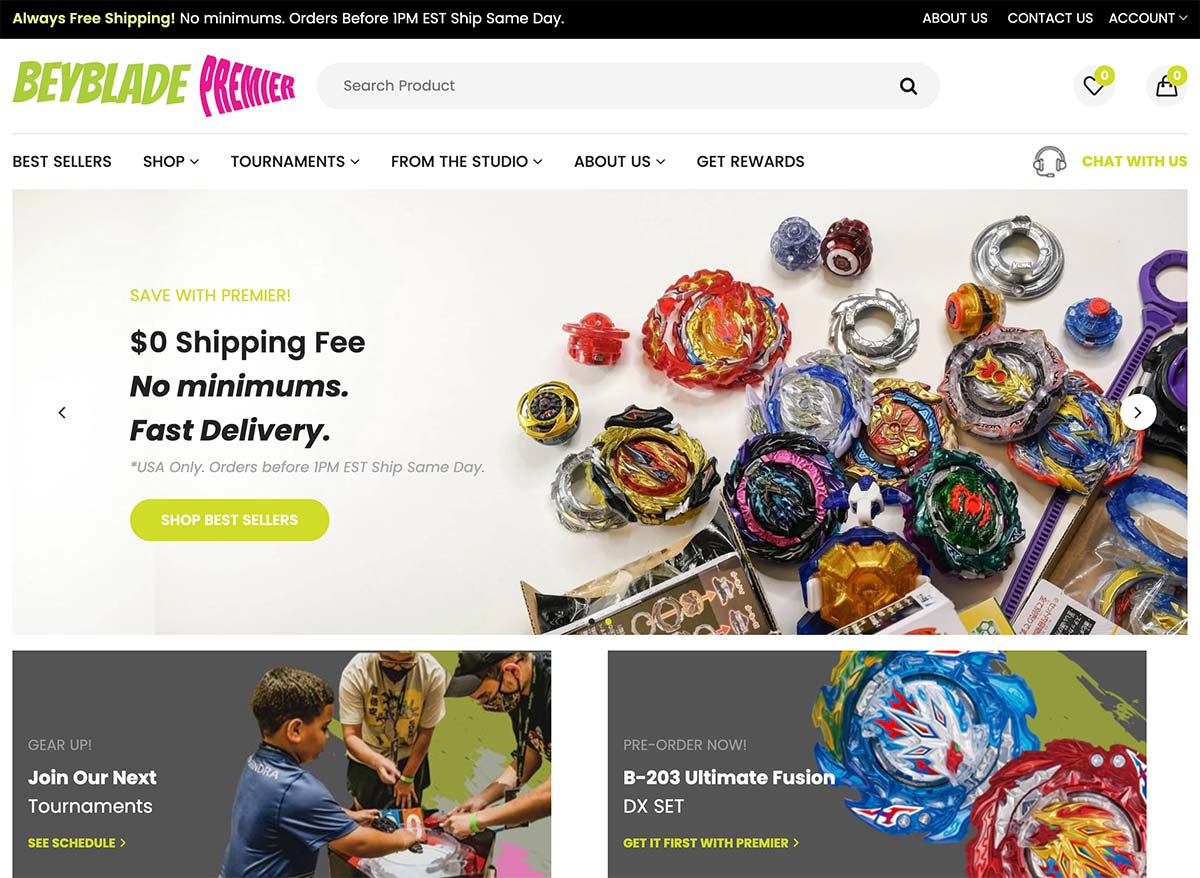 Why buy Beyblades from Beyblade Premier?
100% Authentic Takara-Tomy Beyblades
They buy directly from Asia's highest trusted source. Their inventory comes straight from Takara Tomy's Vietnam factories.
Newest Releases
They have established direct shipping sources to get new TT releases in USA by the official release date. You'll even have your Beyblades shipped the same day if ordered before 1PM EST.
Low Prices & Free Shipping
They offer the lowest prices and free shipping on genuine Takara-Tomy Beyblades within the USA! What's especially great about their shipping is that:
There are no minimums or maximums for free shipping. As a result, no matter what you order, shipping will be free!
Orders ship the same day if ordered by 1PM EST.
They also ship internationally. Learn more on their FAQ page.
Personal Post Office Handoff
Beyblade Premier personally delivers packages to the post office. Pick up services often used by other retailers add an extra day of transit time to your orders. That's why you often receive a tracking number but no real package movement or estimated day of arrival.
Community Focus
They focus on community, not profits. They put everything back into the community, create memorable events, one-of-a-kind experiences, and create consumable content to educate and grow bladers around the world. In fact, Beyblade Premier was founded by active WBO Organizer Conce7!
Shop Beyblades @ BeybladePremier.com
Heads up: If you buy something through Beyblade Premier, you won't pay any extra, but worldbeyblade.org will get a small commission. As a registered not-for-profit organization, all funds are poured back into the community to help pay for our hosting, corporate, and legal expenses, develop new features, offer giveaways, and more. We appreciate the support!