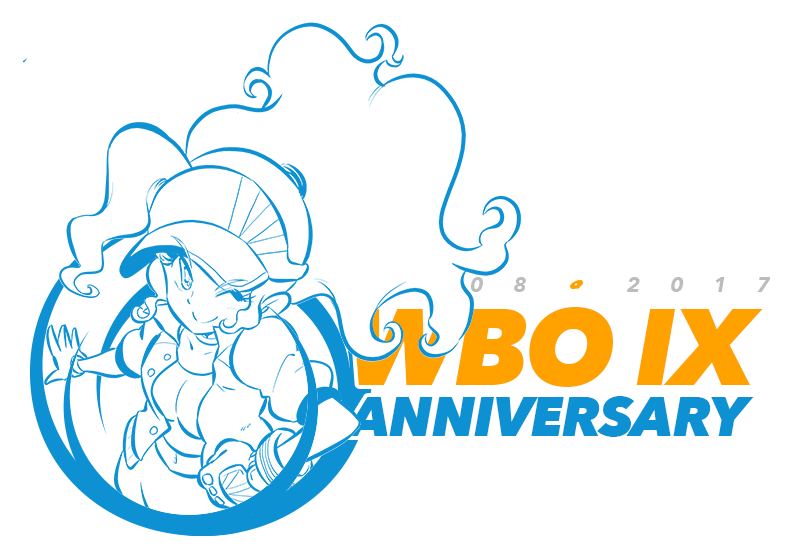 Hey there World Bladers!
As we come to the end of another year of Beyblade, we look back at everything that has happened in the world of Beyblade this year. Takara-Tomy and Hasbro both launched their God Layer System series, mixing up the metagame immensely. The WBO has continued to grow, with activity staying strong and discussions ongoing! You guys have also made 95 WBO sanctioned events possible so far this year, which is a number that continues to astound us! 
But now, the time has come to celebrate our 9th Anniversary! This year, we've prepared a number of festivities to celebrate:
First, creator of Metal Fight Beyblade–
Adachi Takafumi
–has drawn up the fantastic
new character art of Taka & Fumi
–
the WBO mascots we unveiled last year
–that you see in our Anniversary logo! You'll see this used more across the site this coming year, and will also be featured on brand new shirts in
our store
very soon! And we're also bringing our beloved
BeyLotto
out again for the third time this year and opening it up to all Bladers! Be sure to enter, we've got some fantastic prizes this year!
Our Instagram contests have been a hit this year, so we're bringing out another one: the
#WBOMemories contest
! We're finally publishing
HMS & Plastics Remembrance
BeyLotto Results
(sorry for the delay!), and providing a few of
rule updates
to our Competitive Play rulebooks. There's something for everyone this year!
We had also planned to launch our
rewrite of the current site theme
today as well, but circumstances mean that this isn't possible today. However, when we do launch this later this month, you can look forward to a number of old features returning to the site, as well as a number of new ones, such as 
Battle Histories
on profiles,
tournament invitations
, and what we feel will have the largest impact: 
Organizer tournament processing
! We'll have more information on this when it launches, so stay tuned for the full details!
And as usual, let's not forget that we're
waiving the fees for all WBO tournaments
between December 4th and January 4th! Make the most of this time to host a few tournaments and bring new Bladers to each of our communities!
The past year hasn't been smooth. We've had a number of site issues to fix (and still do!), but you've all been understanding and helped to make the process as smooth as possible. As our dedicated community, thank you for sticking with us; joining in discussions, writing Wiki articles, participating in events worldwide, and making the WBO
the
place to be for Beyblade fans for the ninth year in a row!
Here's to another year! 
(Oh god, we're 10
 next year...better plan something big
..
.)
Check out this year's content!
Entry Fees Waived for WBO Tournaments: December 4th, 2017 – January 4th, 2018