Outlined below are several important new ruling additions, updates, and clarifications to the WBO Organized Play Burst Format rulebook and the Organizers' Guide. View all
WBO Organized Play Rules & Resources here
, and a summary of the changes below:
Rule Updates Overview
IMPORTANT

Burst Format: First Stage - Burst Finishes Increased from 1 Point to 2 Points

Metal Fight Limited Format: Gravity's Initial Spin Direction Selection in Deck Format Clarification

---
Burst Format Updates
IMPORTANT
Burst Format: First Stage - Burst Finishes Increased from 1 Point to 2 Points
Burst Format Rulebook Wrote:To win a match, a blader must

score 3 points

. You earn point(s) when:

The opposing Beyblade stops spinning (1 Point)

The opposing Beyblade exits the BeyStadium (1 Point)

The opposing Beyblade bursts (

2 Points

OR

1 Point if Frame or God Chip comes off)

There has been much debate in the community over the past couple months about the situation TAKARA-TOMY has presented us with through the release of Hell Salamander, Archer Hercules, and Revive Phoenix. Around the world, there's differing opinions about each of these Layers. But ultimately, they do keep each other in check to a certain degree.
However, the problem that's been identified is the low usage and effectiveness of Attack types especially after their release. It was particularly bad until the recent release of Xtreme' with Shadow Amaterios, a much needed new version of Xtreme with a much tighter spring and softer rubber, allowing for a tighter lock and much better flower pattern when banking.
While Xtreme' has allowed for a marked improvement in the performance of Attack types and combinations using it have been found in recent Winning Combinations lists, usage of Attack types–particularly in the first stage of events–is still quite low.
In order to help give Attack types a more defined purpose and increased value for the first stage, we have therefore made the decision to increase Burst Finishes from being worth 1 Point to 2 Points. Outspins, KOs, and Frames/God Chips falling off are still 1 Point, and matches are still won after a player scores 3 Points total.
This was made possible due to the release of Xtreme' and Hunter'. The tight lock on these Drivers helps to reduce the possibility of an Attack type self-bursting, which is one of the primary reasons we had never considered imposing the two point Burst Finish rule for first stage matchws–which are only to 3 Points, unlike Deck Format's 5 Points–previously.
Burst Finishes in general have also become less common overall, but Xtreme' does make them a lot more likely in certain situations. Changing Burst Finishes to two points also makes the risk/reward factor of using Stamina types (using Drivers like Bearing) higher, which can affect the choices players will make.
We chose to leave KOs at 1 Point due to the more unpredictable nature of them in combination with the shorter three-point nature of first stage matches. We didn't like the idea of an Attack user doing a perfect bank and then getting KOed while the opposing Stamina type gets wall-saved.
This rule update allows us to–at least for the time being–avoid banning any other parts. Despite the increased number of bans throughout Burst Format thus far, the ideal has always been to avoid bans, and we feel that this solution will be a strong alternative.
Metal Fight Limited Format Updates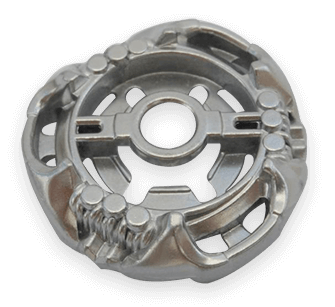 Metal Fight Limited  Format: Gravity's Initial Spin Direction Selection  in Deck Format Clarification
Following our
July 2018
mode change restrictions for the Gravity Metal Wheel allowing only one mode change per match, we realized that one additional clarification was needed after the first event of Beyblade Remembrance 2018 in Toronto in order to prevent a possible second mode change in Deck Format.
As such, the following ruling was added to the rulebook, applicable to anyone using Gravity in their deck:
Metal Fight Limited Format Rulebook Wrote:In the final stage of events, Gravity's initial spin direction must be declared to the judge while their deck is being inspected.
---
Feedback?
If you have any feedback on these particular changes, or any questions or suggestions for further adjustments or additions, please post your thoughts below or in the
WBO Organized Play Rules thread
.
Thank you to everyone for your continued support of WBO Organized Play! We appreciate any and all feedback and are always looking to improve and clarify things where possible.
View all
WBO Organized Play Rules & Resources here.