Hello World Bladers,
Today, we are excited to announce that
BeybladePremier.com
is now the official USA sponsor of worldbeyblade.org
!
Below, we'll let you know who they are, why we chose them, what this all means, as well as give details on an awesome new giveaway!
Beyblade Premier is the first member of the
WBO Approved Store Program
. Applications for this program are currently closed while we finalize the program details, application process, and complete work on some unrelated projects. Stay tuned for more information on this in the future! You can expect an update on this by the end of the year.
---
About Beyblade Store BeybladePremier.com
Genuine Takara-Tomy Beyblades
BeybladePremier.com
is a Beyblade store specializing in
100% authentic Takara-Tomy Beyblades
. They buy directly from Asia's highest trusted source. Their inventory comes straight from Takara Tomy's Vietnam factories.
Newest Releases
They have established direct shipping sources to get new TT releases in USA by the official release date. You'll even have your Beyblades shipped the same day if ordered before 1PM EST.
Low Prices & Free Shipping
In addition, they offer the lowest prices and free shipping on genuine Takara-Tomy Beyblades within the USA! What's especially great about their shipping is that:
There are no minimums or maximums for free shipping. As a result,

no matter what you order, shipping will be free!



Orders

ship the same day

if ordered by 1PM EST.

They also ship internationally. Learn more on their FAQ page.
Personal Post Office Handoff
Beyblade Premier personally delivers packages to the post office. Pick up services often used by other retailers add an extra day of transit time to your orders. That's why you often receive a tracking number but no real package movement or estimated day of arrival.
Community Focus
They focus on community, not profits. They put everything back into the community, create memorable events, one-of-a-kind experiences, and create consumable content to educate and grow bladers around the world. In fact, Beyblade Premier was founded by active WBO Organizer
Conce7
!
---
Sponsorship Launch Giveaway
Enter for a chance to win a B-203 Ultimate Fusion DX Set!
To celebrate the launch of our partnership with BeybladePremier.com, we are hosting an exciting giveaway! This free giveaway is open to all registered worldbeyblade.org users. Click the button below and enter for a chance to win a:
---
Sponsorship Implementation
Promotion of BeybladePremier.com on worldbeyblade.org
As you may have noticed, we have added reference to BeybladePremier.com in a few areas on the site: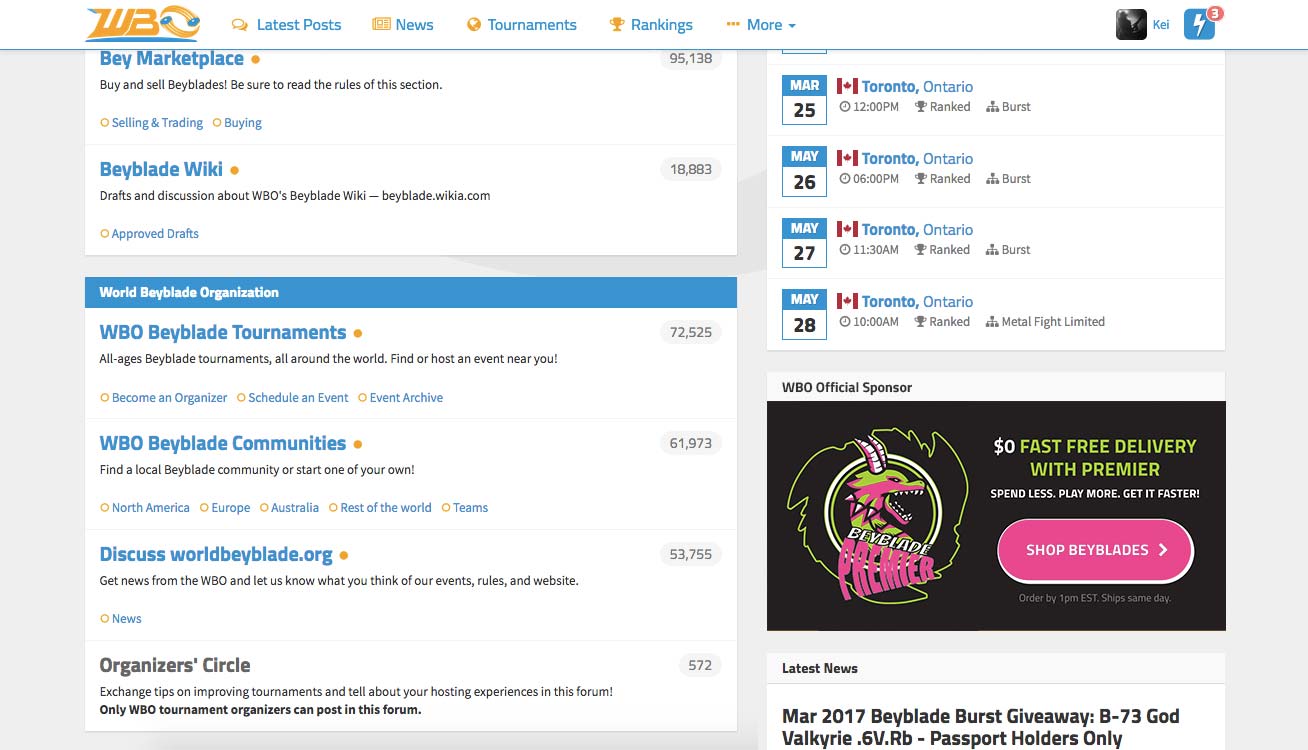 Main Menu

: The "Shop" tab links to a page that highlights BeybladePremier.com and links to their website where you can purchase Beyblades.


Footer Banner

: A banner has been added on all pages at the bottom of the site promoting them.


Homepage Sidebar

: A box has been added here promoting them.


Bey Marketplace Forum

: A pinned thread and banner have been added.


Beyblade Products Forum

: A banner has been added.


#🇺🇸-beyblade-premier Discord Channel

: On the WBO Discord, we've added a new channel where they can make announcements.

The implementation of this sponsorship may evolve over time, but these are the primary promotional pieces you will see to start. Our goal will always be for the implementation to feel organic and as unintrusive as possible.
worldbeyblade.org Commission
As part of the sponsorship, we would also like to note that worldbeyblade.org will also receive a small commission on every sale that comes through a click through to BeybladePremier.com from worldbeyblade.org.
Or more specifically, clicks through our direct
affiliate link
.
As a registered not-for-profit organization, all funds we receive are poured back into the community to help pay for our hosting, corporate, and legal expenses, develop new features, offer giveaways, and more. We appreciate the support!
---
Why did we partner with Beyblade Premier?
Reputation & Community Involvement
Since joining the WBO in 2020 the founder of Beyblade Premier,
Conce7
, has demonstrated a deep commitment not only to building a reputable store that players can trust, but also building the Beyblade community both locally in Florida and nationally across the United States.
His dedication and ambition has been a boon for the community across his activities both as a seller through Beyblade Premier and as an Organizer. There are few others who can compare to Beyblade Premier in terms of their mix of great selection, customer service, and involvement with the community. So, we think that they are a great fit as the USA sponsor of worldbeyblade.org.
We hope that you will support BeybladePremier.com and worldbeyblade.org moving forward! Thank you!