Hello everyone! We're happy to announce that we have recently implemented a range of
new features for WBO Organizers in event pages
. They have been implemented in an effort to:
Grant greater flexibility in the management of participant lists/event sizes

Make it easier to seed participants

Improve visual design in a few areas

Check them out below and let us know what you think!
---

Updated Participant Display on Event Pages
The listing of participants beside the Join Tournament button has now been updated to feature a maximum of one row of avatar thumbnails. This helps to make the event page cleaner to look at.
Previously, when you had dozens or even hundreds of participants registered it started to become a bit of an eyesore to have them all showing!
---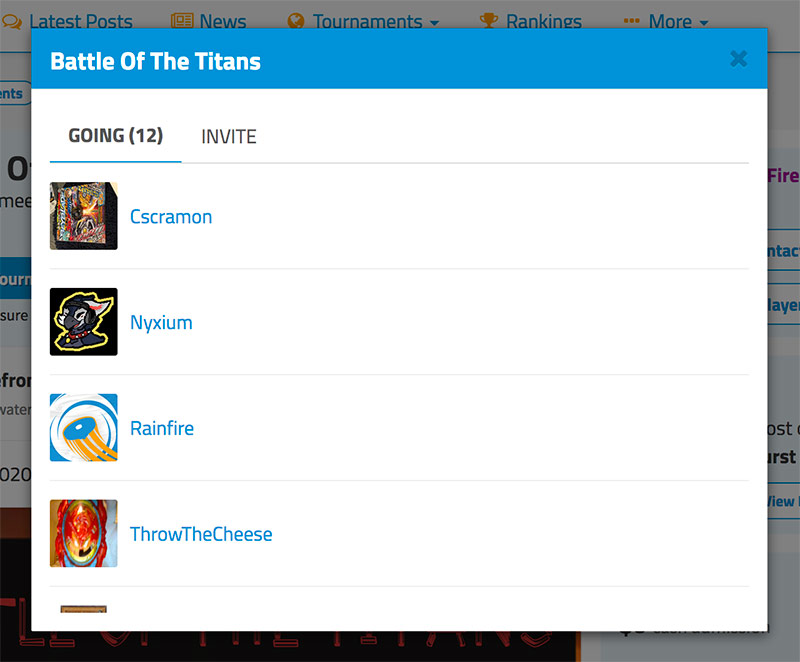 Updated Participant Pop Up Window Design
To go along with the limitation on the participant avatar thumbnails shown by default, we have made an update to the design of the participant pop up window that makes it easier to browse all participants in an event.
Participants are now listed with their avatar and username in a list format. This replaces the
previous grid of avatars
which made it especially hard to decipher between users that have the
default WBO avatar
.
The total count of participants has been added to the pop up window now as well beside the "GOING" text.
---
Manually Add & Remove Players
Within the participant pop up window, Organizers now have the ability to manually add and remove players.
Organizers should only use these functions when there is a legitimate reason for doing so.
When should players be added manually?
For instance, adding players manually will be useful for ticketed events (such as conventions) where only those who have a ticket may join and would like to manually construct an accurate list of participants.
When should players be removed manually?
Removing players would be permissible when:
Someone that has joined your event has demonstrated that they will not or cannot comply with some additional event specific requirement(s) required by the WBO or requested by the Organizer.

Someone that has joined your event is clearly from somewhere very far away and hasn't indicated that they will be traveling to play in your event.

Any abuse of this system can be monitored by the Staff team as logs are kept of every addition/removal.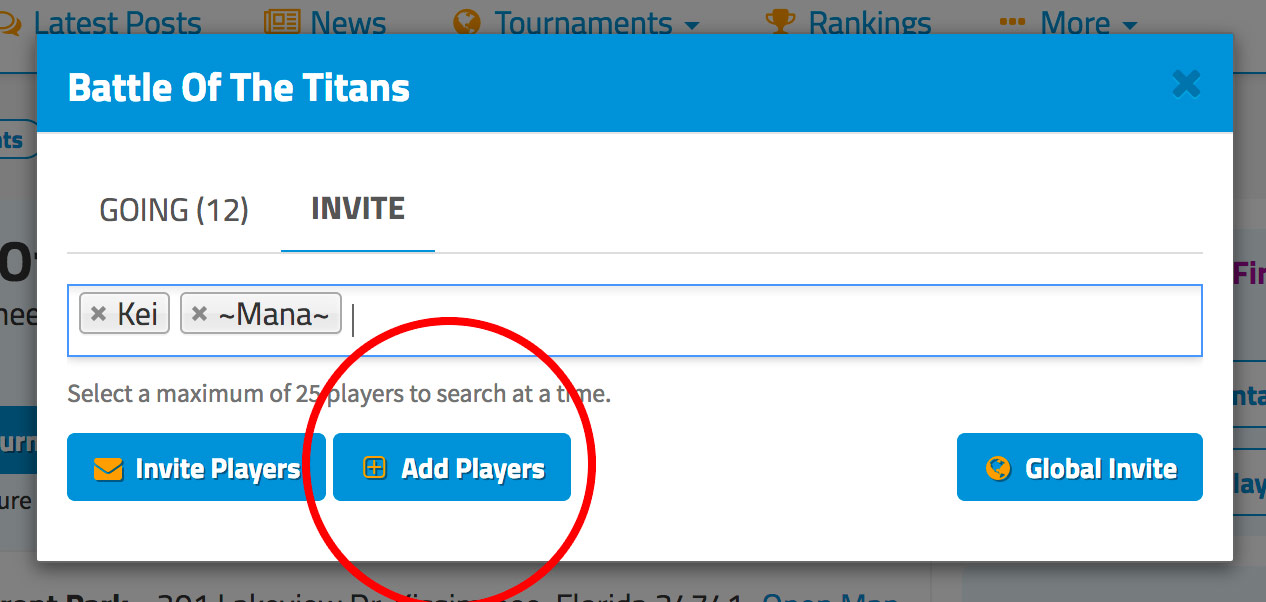 How to Manually Add Players
From the "Invite" tab, simply type the usernames of the players you wish to add and click "Add Players".
Added players will receive a PM notifying them that they have been added.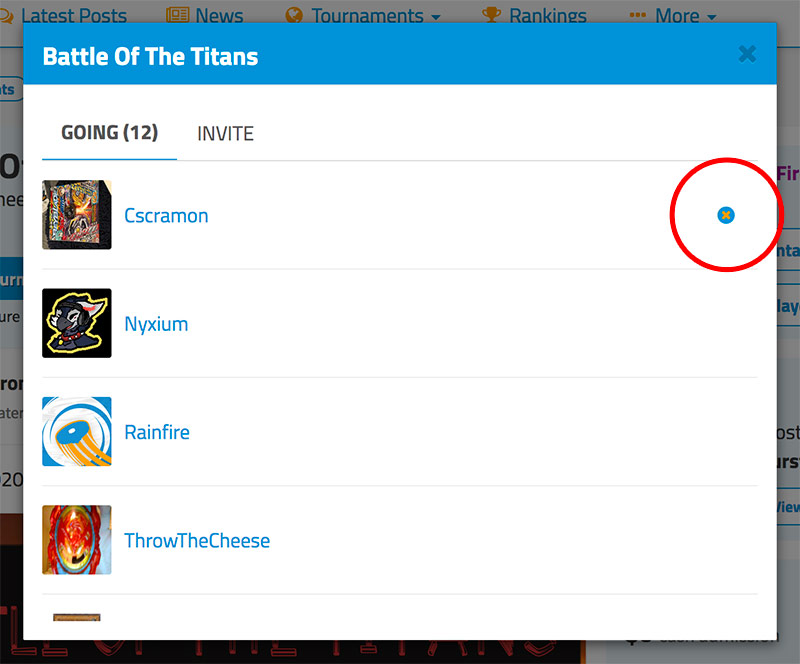 How to Manually Remove Players
On the "Going" tab, hover over a player and click the X that appears along the right hand side to remove them.
Removed players will receive a PM notifying them that they have been removed.
---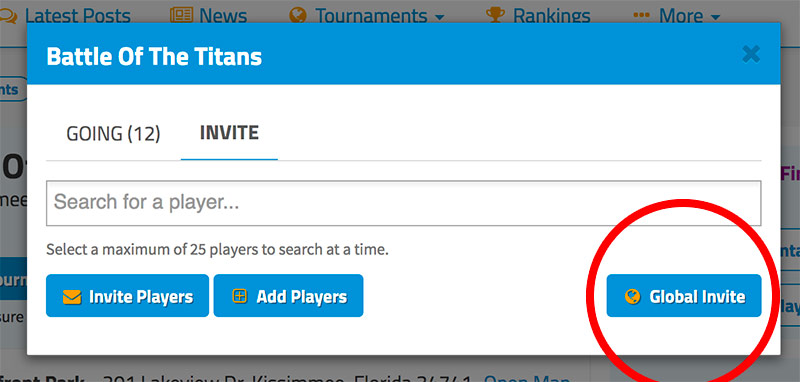 Global Invite (Event Notifications)
Ever wondered why you never received any notifications despite
setting up your location and notification preferences in your profile
? Well, it's because the functionality was never finished … until now!
Organizers can now send 1 "Global Invite" per event which will notify all nearby players who meet the criteria to be invited based on the location settings set in their profile. Players will receive invites as PMs and also an email if they have PM email notifications enabled.
Note that invites will be sent out in batches, so if there are hundreds or thousands of applicable users it will take a few hours for all of the invites to be sent.
This is a great way to announce events to a targeted and relevant audience and boost your attendance numbers.
If you haven't already and are interested in receiving notifications for tournaments near you, set up your location in your profile now!
---

PM Notification When a User Joins Your Event
Organizers, you will now receive a PM notification whenever a user joins your event.
This will make it easier to keep tabs on who has joined your events at any point in time and understand when they have joined.
---

Disable User Registration
From the "Schedule a Tournament" form, we have added the option to disable user registration entirely for events, effectively making them invite-only.
This option works in tandem with the above functionality regarding the manual addition and removal of players to grant Organizers much greater control over their participant lists.

All WBO events generally must be open to the public, except in circumstances, such as at a ticketed event (ex. a convention), where it may make sense to allow the Organizer to manually construct their participant list based on those who they can confirm have actually bought tickets.
Usage of this feature for WBO events will be granted on a case-by-case basis.
This feature was also implemented partially out of consideration for our intention to eventually allow non-WBO events (whether that be official WBBA events or events hosted by other groups) to be posted on worldbeyblade.org in some yet to be determined capacity. People running these types of events may want them to be invite-only. We will comment more on this in the future when we have a finalized plan in place.

User Registration Info Field
Below this option you'll also see the "User Registration Info" field. This field is to be used to describe how you can register if the event has disabled user registration (ex. You must buy a ticket from ... and then contact the host")
---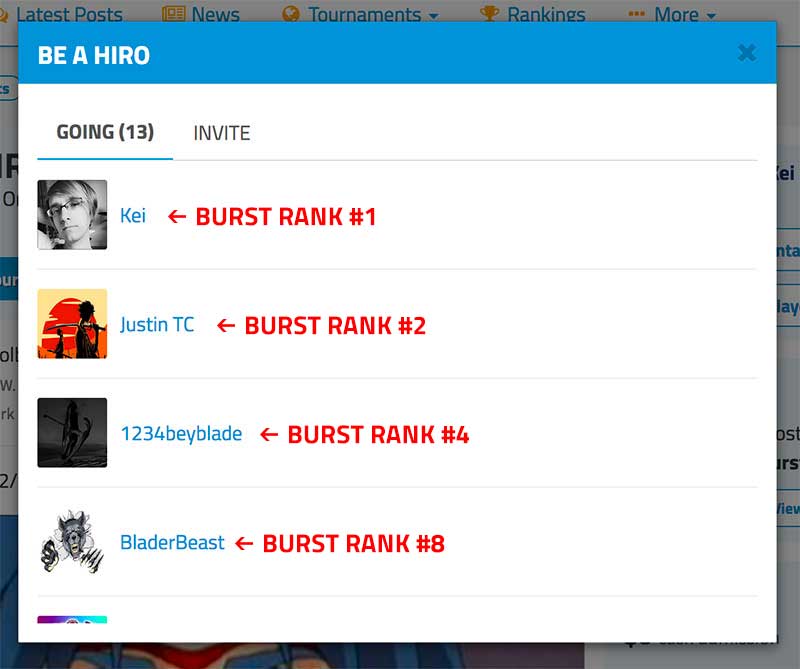 Participants Now Sorted by Rank
Organizers, do you hate seeding players manually? So do we.
Thankfully, the participant list on event pages is now automatically sorted by
rank
from highest to lowest to new players without a rank!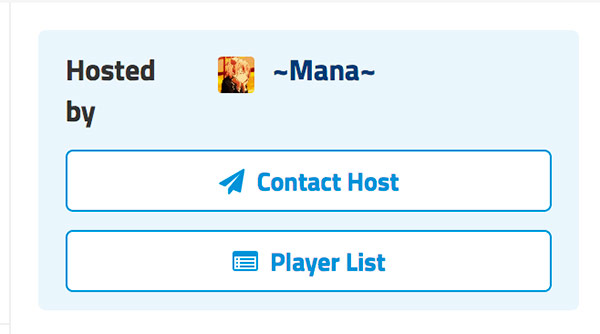 Player List Button
You can see the sorted participants in the participant pop up window, but there's an even faster way to copy this information for your Challonge bracket.
The "Player List" button visible for Organizers under "Contact Host" exports an unstyled list of your events participants sorted by rank.
Quickly copy this to speed up the process of building your Challonge brackets!
This update not only brings higher ranked players to the top of the list which might attract more people to your event, but it makes it way easier to seed your event.
---

Join Tournament Button Confirmation Message
We understand that some people unfortunately do not take the "Join Tournament" button seriously and click it having no intention of attending.
While this sort of behaviour will be difficult to fully eradicate, we have now added in a statement below the button encouraging users to think twice before clicking it:
"Only join if you're sure you can attend."
We hope that this small change in addition to Organizers being able to manually control their participant lists will make it easier to ensure they are accurate.
---

Participant Capping
This feature has technically been available for a while now, but on the back-end had not been fully and properly integrated. It now is complete and we've solved some lingering bugs with the original implementation, such as users inability to unjoin an event that had reached its cap.
As has been the case thus far, participant caps will be approved on a case-by-case basis for WBO events.

---
Organizers, we want to hear from you!
Many more changes are on the horizon as part of
Project AIDA
that we will detail when they are ready, but we would love to hear feedback from you guys as well.
Is there anything you wish was possible on event pages that would make your experience as an Organizer better?