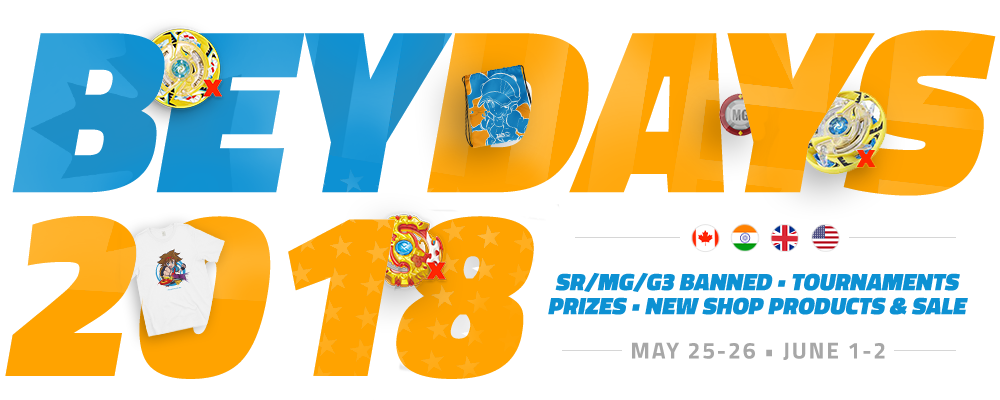 Hey there World Bladers!
It's that time of year again, BeyDays is back! We've been working hard behind the scenes to make this year's BeyDays event packed with festivities for you to take part in!
It wouldn't be BeyDays without our Organised Play events! This year, we're delivering another
high-action double weekend of events
across the globe, with additional perks such as extra funding for raffle prizes, waived Credit limits, and the chance to get your own limited edition
Bit of Days IX
!
A blast from the past, our
#BeySelfie social media campaign
is back! You all loved it the first time, so we want to see more of your Beyblade creativity! From today until June 3rd, submit your entry for a chance to win fabulous prizes!
We're also unveiling some
new official WBO products
on our shop! From today, you'll be able to get your hands on new shirts and tote bags featuring the new artwork of Taka & Fumi that we revealed during our 9th Anniversary! Seize the opportunity to get these new products with an
added up to 15% discount off everything
until June 2nd as well! 
And in case you missed it, we recently announced some
major rule changes
for our Burst Format events! With the likes of Maximum Garuda, Garuda G3 and Spriggan Requiem now sitting on the banlist, how will this mix up how you pick your tournament combos?!
Our
theme rewrite
is also progressing steadily and, while we couldn't quite complete it for BeyDays as we had hoped, please look forward to seeing launch in the next couple of weeks! It's our most feature-complete theme yet, including new high-demand features such as
Event Invitations
 and
Profile 
Battle Histories
! We hope you'll love this as much as we've loved working on it when it launches soon!
...you're still reading? What are you waiting for, go get stuck in already!
Check out this year's content!