Wassup World Bladers?! Rise and shine, summer's here and it brings our favorite holiday:
BeyDays 2015
May 23rd - May 24th
It's the lucky number 7 of all BeyDays! Woo!! For six years, through good Beyblade years and bad years, Bladers all around the world have challenged the obstacles in our path to celebrate the best hobby ever! Dare I say it: are you guys ready for the next chapter in your Beystory!?
Yet another, third North American Championship has been organized by the WBO, this time fueling the latest format introduced:
Team Format
! Of course, as a championship, qualifiers have been held in a few regions of North America and some fiery Bladers have fought their way to a paid travel expenses prize package, so they get free entry to the championships. However, it's also open to all those who dare step foot within this realm of fighters, so come on out if you're tough enough! You can find out more about this championship and the side events and activities that enhance this experience right here:
WBO North American Championship: Team Battle Revolution
!
But hold on, the world certainly doesn't revolve around one region! So, we're calling out all the hosts who aren't already going to the Anime North convention for the North American Championship. T'is the irony of holding a world-renowed event each year, but we know so far that there are several areas planning tournaments for BeyDays. Here is a list of who is planning, alongside the currently confirmed events:
---
Planning Events:

Raleigh, North Carolina, USA

Montréal, Québec, Canada
Confirmed Events:
Team BeyBattle Revolution

Toronto - May 23 2015


at Anime North 2015
HMS BeyBattle Revolution + Side Events

Toronto - May 24 2015


at Anime North 2015
London Rising: BeyDays Ver.

London - May 16 2015


at Regent's Park
London has been granted an exception to host an event for BeyDays on May 16th.
---
To help everyone out, we're putting these cool features back on the menu for you this year:
Regions who have never hosted a WBO tournament in the past will be able to hold a

free

event for BeyDays 2015 without the $5 entry fee!

We will also waive the entry fee for regions that have not hosted an approved tournament

in the last five months

!

If you can't quite get the

eight

seven

required confirmed participants yet, we'll send invites to the Members who signed up on the BeyMap in your area to urge them to attend and have fun on BeyDays, before the Event Proposal is even approved!

We're increasing the limit of Credits that can be gained during one weekend from the regular 8 to

16

! We're blowing away the laws, battle all night!
BeyDays, with all those exceptions, is the best opportunity to start up an active Beyblade scene in your region for the rest of the year! Don't doubt it: you can always find someone hiding under a rock whom you weren't expecting!
Wondering what BeyDays is like?
Check out the sixth and final video in the GRAND BATTLE TOURNAMENT 2 video series from Anime North 2014, GRAND BATTLE ENCORE: Zero-G!:
You can view even more tournament videos here on BeyChannel.
So, do you want to host a BeyDays 2015 tournament in your area?
In addition, a sweet new
Face of Days VI
will be given to all participants of these BeyDays tournaments! That's right, no need for a super accomplishment or a 10-0 record in the event, it's automatic!
And 3, 2, 1 ...
...
BeyLotto
!
Of course, the BeyLotto comes back, with a vengeance! It's a special edition this year. Not only will
every participant of a BeyDays tournament be automatically entered in this BeyLotto
, but
Passport Holders can also enter this time
! As usual, the more tournaments you enter, the more chances you have in the lottery which will be done completely at random. So, for example, if you attend two tournaments and purchased a Blader Passport, you've got three entries in the BeyLotto. How's that! What that also means is that you don't even need to have played in one of the BeyDays events to enter, although it helps!
Blader Passports can be purchased at the cost of $10 US either
online via our Passport page
, or at any official WBO tournament.
Guess what... We're really, really fired up with Beyblade Burst looming on the horizon, so this'll be a complete
Beyblade Burst-themed BeyLotto
! You read that right: before they're even officially released, we're giving you a guaranteed preorder for some of the new items from Japan! For the physical prizes, there'll be a total of... 5 winners! Places have not been this limited in a while, so do all you can to help your luck!
Here's the complete list of prizes for the BeyDays BeyLotto:
1st Place -

1 Beyblade Burst DX Starter!



2nd Place -

1 Beyblade Burst Starter!



3rd Place -

1 Beyblade Burst Starter!



4th Place -

1 Beyblade Burst Booster!



5th Place -

1 Beyblade Burst Booster!



At least, that's what the list is
so far
...! This year's been a little rougher than before, and there aren't that many tournaments being organized for BeyDays. However, sudden donations could definitely tip the Libra scale towards the 230-height sky~!
But wait, that's just for physical prizes! We're also going to give away
20 Face Boosters
!! Since we're on the verge of seeing the birth of a whole new Beyblade generation, we're going to give off all the Metal Fight Beyblade Face Boosters to the
6th to 25th Place winners
to celebrate what's gone by and brought us all together these past 5+ years! They'll have a choice of:
Face Booster RED




Face Booster BLUE




Face Booster GREEN




Face Booster ORANGE




Face Booster YELLOW




Face Booster PURPLE




Face Booster CRIMSON




Face Booster AZURE




Face Booster AMBER




Face Booster VIOLET




Face Booster JADE




Face Booster AZURE




Face Booster JET




Face Booster VIVID




Face Booster AMETHYST




Face Booster SAPPHIRE




Face Booster EMERALD




Face Booster RUBY




Face Booster ONYX



Wow, can you believe we were gifted with such a track record of Faces?! You'll probably be ripping off all the hair on your head trying to choose the Face Booster you really want!
Submit tournament footage, gain extra BeyLotto entries!
Hang on- post a BeyDays tournament report, and also gain extra BeyLotto entries!
Spread the word out and support the WBO and BeyDays on Twitter and on Facebook! Everybody's got a part to play in a success, and this may just be your opportunity! Carpe Diem!

@worldbeyblade

WorldBeybladeOrganization
#BEYBLADE #BEYDAYS #WBO
---
Trial Ban of F230CF/GCF pair in Zero-G Format
You might think this is coming out of nowhere, but we've been thinking and talking about this issue that a lot of you have brought forward, and we've decided it's probably best to
temporarily ban the F230+CF or F230+GCF combinations from the Zero-G format
to see exactly what would happen without it.
Since the ban is only temporary, there'll be a trial period determined by the number of Zero-G events:
after 10 cumulative tournaments under the Zero-G format have been hosted worldwide
, the ban will be lifted, and it'll be time for the real decision to be taken.
For each Zero-G event in and after that period, we would of course like to hear your thoughts on the matter! A new thread has been opened for discussion:
F230CF & F230GCF Trial Ban in Zero-G Format Discussion
So, especially if you've battled in events of that format before and that you participate in a recent one during the trial period, come and tell the community how you liked or disliked the different gameplay, whether combinations remain the same, whether focus has shifted to countering a substitute big bad boss, or any other constructive comment for the debate!
---
Limited Format Ban List ver. 1.3 - Effective May 4th, 2015
To further spice things up,
RS is now unbanned
in the Limited Format, effective May 4th, 2015. This should give a chance to Defense types to regain the ground they had lost!
Feel free to post your opinion and tournament experience regarding this update in the Ban List Discussion topic:
MFB Limited Ban List Discussion
---
Event Guide updates: Team Format, bigger Block Round Robin finals, WBO OP Tournament Results Spreadsheet Template
Just a few small updates will be done to the Event Guide within the next few weeks:
Team Format
- Firstly, Team Format will finally be added to the Event Guide. For those unfamiliar with it, you can read all of the rules
here
in the mean time.
Block Round Robin: two Bladers must now advance to finals from each block
- Secondly, we have come to realize that having only one player per Block advancing to the finals in a Block Round Robin format tournament was slightly unfair. It essentially meant that you had to have a perfect record to move to the next stage, and that's similar to Single Elimination. And given that luck can play a factor in this game, it makes more sense to allow for a little leeway in terms of what a qualifying record would be in any given tournament.
This means that hosts should now take the
top two Bladers
from each Block to advance into a Finals Block, with a maximum of eight players. It'll make longer final rounds, but hopefully you all agree that this gives players a few fairer chances of going far in a tournament!
WBO OP Tournament Results Spreadsheet Template is now Mandatory!
- Thirdly, active WBO Organizers have most likely become aware and even commented on it already, but since the reception was rather positive (thanks for the support, guys!), we would like to officially make it mandatory to use the spreadsheet when submitting tournament results.
You can find it right here:
WBO OP Tournament Results Spreadsheet Template Download & Discussion
If this is the first time you're hearing about it, then in short, it's a template that will really help us keep our master spreadsheet updated, and speed up the processing of tournaments. We keep all the tournament results and information in there, even a few winning combinations so far! Submitting results like this instead of sometimes typed out in a private message, sometimes on several Challonge pages, etc. makes one of our tasks much easier! Thanks in advance for your time, although it doesn't take that much longer! And remember that you can always technically have two hosts for any given event, so it would be easy to split up responsibilities if necessary.
We're working towards a massive update to the BeyPoint System which will include
spreadsheet uploading for automatic processing of results
, so this is the first step towards that!
---
With the new Beyblade series Beyblade Burst being released this July 2015, and as the biggest community dedicated to Beyblade, we are pleased to announce that
we will be giving away Beyblade Burst starter packs to Organizers to distribute
in certain regions of the world to maximize the hype and give our Members a first-hand experience of the new beys in our new campaign of tournaments,
Beyblade Bursts Onto The Scene
!
First 7 Participants at each tournament get a brand new Beyblade to use and take home!
And listen, we're not asking for those products back at the end, no way! Those are really gifts for the community! The first 7 Bladers to arrive at the tournament will randomly pick one Layer, one Disk, and one Driver from the Beyblade Burst items, and leave with it at the end!!
There will be a mandatory $5 USD entry fee for these events, but as you can probably guess: that is well below what the Beyblades will actually cost to import if you were to do it yourself!
We know it's hard for some of you to order online, but that shouldn't be a reason to delay the organization of tournaments using the Beyblade Burst format!!
Since the first few products are getting released around July 18th 2015, there'll be a sort of
trial period from July 18th to September 30th
during which these events will take place. Don't worry though:
The first Beyblade Burst tournament in a region that receives a Starter Pack will not count towards BeyPoints, but Faces and Credits will still be given, so you only get the plus side!

Subsequent Beyblade Burst events will not be processed yet, but they may count later in a separate BeyPoint section!
Beyblade Bursts Onto The Scene Starter Packs


will include the following items:
For the moment, only three areas will be part of the
Beyblade Bursts Onto The Scene
campaign, so mark your calendars and beg your method of transportation to be able to attend one or more of the following tournaments:
---
Confirmed Events:

Toronto - August 2nd 2015
at High Park



North Carolina - August 8th 2015
at Game Theory



London - August 29th 2015
at London's Queen Elizabeth Olympic Park
---
We are hoping to–at the very least–host one more event, so please stay tuned for details! And if we can afford more, we will do more. We want as many people as possible to get a chance to test out Beyblade Burst.

What happens if there are more than seven players, do you ask?
Quite simply, these first seven, lucky Bladers will be asked to share with the players who came in later to the event when they are not playing in an official battle with it already. Their Beyblade will be returned at the end, because the host will have written down who got what.
We're assuming that regular stadiums like the BeyStadium Attack Type should still work with the Beyblade Burst generation, but we'll just have to adapt if it turns out to be clearly too dangerous or something like that!
What do y'all say about this?! Burst through the crowd and be the winner!
---
Face Contest: Design a Beyblade Burst Beyblade!
Waah, where's the traditional photography contest?! Don't worry, we ain't forgetting it! It's just that we've been blessed with a new generation of Beyblades that should be making your brains bubble with creativity already!!
So far, Beyblade Burst appears to revolve around some Norse mythology, but it's probably going to touch upon other mythologies of the world as well. So we're asking you: what do you think the next 3-layer Beyblade Burst Beyblade could be? Personally, our minds are threatening to implode with exciting ideas, but we can't even participate! Make sure to read the following pages to know more about exactly what constitutes a Layer, a Disk and a Driver, the three new Beyblade parts in Beyblade Burst!
http://worldbeyblade.org/Thread-TAKARA-T...lade-Burst
http://wiki.worldbeyblade.org/index.php?...lade_Burst
For more details on the Face Contest, check out the topic where you can post your entries:
Post Your Entries Here
The deadline for this Face Contest is
June 18th 2015
to give a chance to students with end-of-year exams. Good luck everyone!
---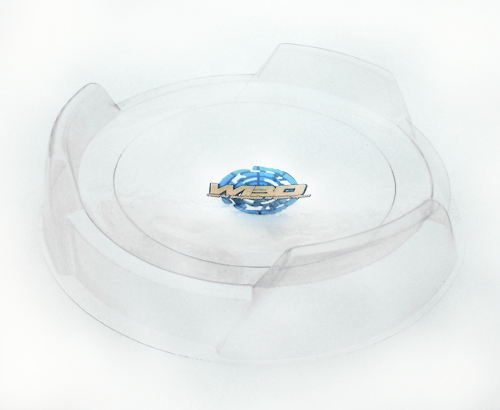 WBO Limited Offer: $20 BeyStadiums Attack Type!!
As a simple reminder, the $20 BeyStadium deal is still on: we've got at least 10 BeyStadiums remaining, and there are tons of regions that have the potential for tournaments at the moment, don't hesitate to apply for one just because it's limited - maybe you'll deserve one of those stadiums!
---
Let's all pray to the Blader DJ star, make a wish and have great BeyDays!!