face booster αlpha is no longer available. A big thank you to everyone who donated!

If you want to support the WBO, check out our t-shirts!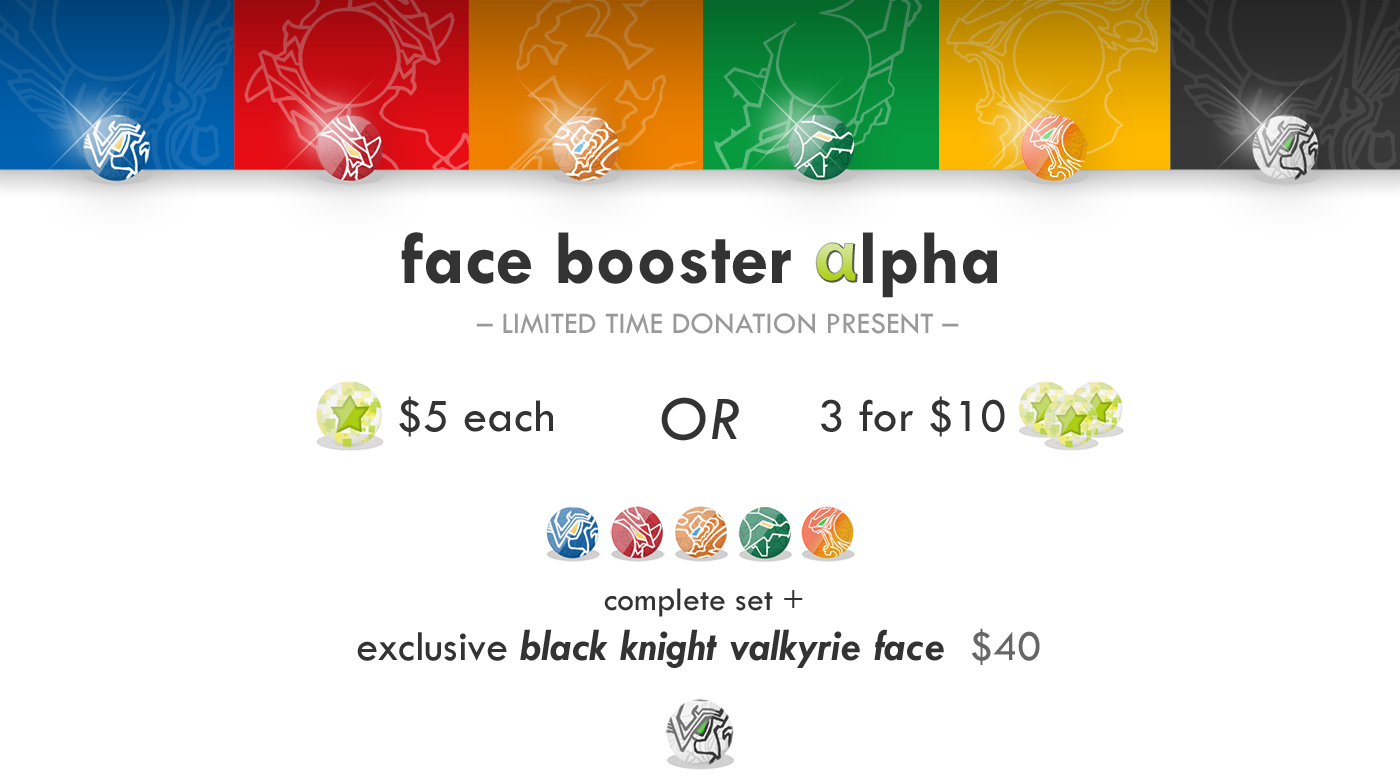 ---
Hey World Bladers!
We're super excited to introduce
face booster αlpha
, a beautiful Face Booster series designed by Kei and Kai-V in a style that brings the best of Burst to the WBO's Face Collection.
The WBO's continued existence can be owed to the fact that the Beyblade community is an exceptionally generous one. Donations from Bladers who love what we do have been fundamental to reaching milestones like the BeyPoint System, Blader Rewards, and BeyDays — not to mention day-to-day workings of hosting and managing the site.
The launch of Beyblade Burst does more than just give us the chance to grow the community again and continue running events; it gives us the chance to do more incredible stuff for
all of you.
To create a better online community. To give everyone the resources to become a better player. To give you the best events — or to help you
run
the best events.
But at the moment when we most need to move quickly and excellently, we're ailed by extremely limited funds and an aging platform that is in dire need of some developer love-and-care.
So, straight-up:
we need more money than we have
to deliver all the great stuff we're working on. We'd like to ask you to help us if you can.
In return ...
As thanks for your donation, you'll receive the latest-and-obviously-greatest in the lineage of donation Faces,
face booster αlpha.
Beyblade Burst's style was much more difficult to adapt to the Face Collection than any Beyblade series before, but Kai-V did an excellent job with the line-art, and Kei masterfully compressed the complex designs down to a beautiful (and high-DPI!) series of wearable art ... for your profile.
---
face booster αlpha
available until january 1, 2016
▪ $5 donation :
1 booster
▪ $10 donation :
3 boosters
results are random
valkyrie, spriggan, ragnaruk, kerbeus
(rare)
αmaterios
(ultra rare)
---
legendary αlpha set
available until january 1, 2016
▪ $40 donation :
complete set + exclusive face
For those of you who would like to make a legendary contribution, we'll thank you by giving you the
complete face booster αlpha series
, along with an
exclusive face
with the the only rarity we could think to describe you:
black knight valkyrie
(legendary)
---
How to Donate
face booster αlpha was available until January 1, 2016. It is no longer available.