I decided I wanted to get into Burst Classic, so that means I need to get some money for parts for Burst classic, as my only TT single/dual layer beyblade is Kaiser Kerbeus. Anyways I decided to let go of some parts I have been keeping for a while. Let me list off the parts shown in the picture below: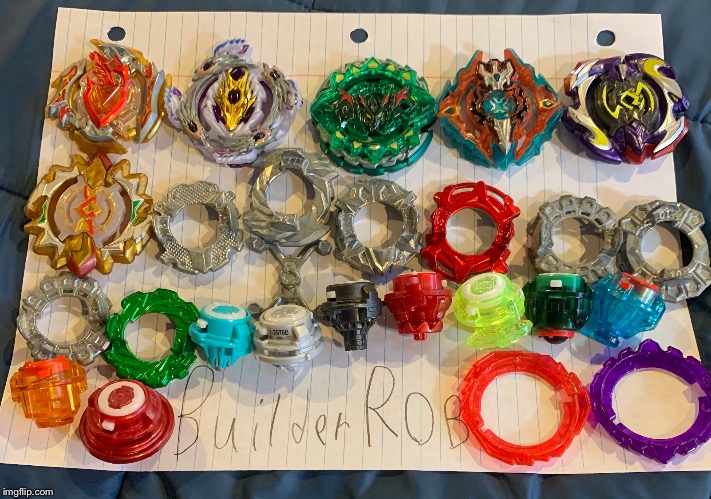 Layers:
Bloody Longinus (White and Purple)
Z Achilles (Brown and Red)
Hazard Kerbeus (Green and Dark Green)
Xcalius X3 (Sword Launcher Set Version)
Left Apollos A4 (Purple)
Right Astro A4 (Gold)
Discs:
Zenith
3 (red)
7 (green)
1
8 (x2)
13
1'
10
Disc Frames:
Vortex (Red)
Dagger (Purple)
Drivers:
Destroy TT (Red)
Atomic TT (Green and Red)
Iron Hasbro (Light Blue)
Trick TT (Red)
Cycle TT (Lime Green)
Broken Hold' TT (Orange)
Broken Volcanic' TT (Blue)
Defense Hasbro (Silver)
Jaggy-S Hasbro (Black)
Weights:
Ten
I would like to sell these parts, however if you want to trade I am looking for:
Volcanic' (Not Broken)
Perfect Phoenix TT 
Around 
Destroy'
Xtreme' (Mostly unworn at least)
Naked Layer Base (Any color)
Paradox (Any color)
Liner'
If you would like to buy the whole lot I will be posting it on EBay soon for $50, so check back here soon if you want to do that. PM me what part you want and the price you will pay if you are interested in any of these parts. I am only willing to trade if you are trading any of the items above.