[Mumbai,India] 29/10/11 - Diwali Beyblast
on
Name-Diwali Beyblast
Date- 29th October(time mostly from 9 onwards...polls for it)
Venue- Sanjay Gandhi National Park
We are supposed to gather at location '
B
' in the map.
Here is a zoomed image of Borivali east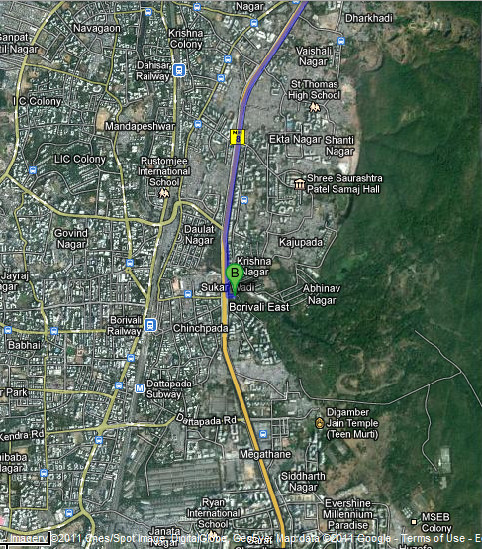 Confirmed participants-
Janstarblast(Co-host)
SAM10795
nik1392
ashton pinto
nickien
pran1895
aditya11
He will not be able to come due to guests at his home
samith3shetty
NitroNeo
samkul238
Unconfirmed:
God of War
Format: Round Robin. (MFB format)
Entry fee: $5 which is around Rs. 246. and $10 for passport which is almost Rs. 492.
The national park has an entry fee of around rs. 30 as well and although we wont be going to deep in it I want you all to have 200 rs. extra with you in case of emergency. It will be better if you get your cell phones.
So we finally got a tourney for Mumbai.

Since I am not a Mumbaikar and neither live very close to the venue Janstarblast will be the co-host for the tourney.
I will try to get it done before 14:00 so that we can have lunch after the tourney. I hope everyone has breakfast before the tourney.
I am not sure if cameras are allowed in the national park but if they are then please try to bring yours because I may forget.
Cameras are allowed, so you can bring yours.
All the confirmed participants will be given my cell number by PM once they post in this thread.
I hope all of you have my number by now.
I hope we make this tourney memorable.
No prizes are decided yet. We probably will not have a prize but Janstarblast has asked the committee if we can use the fees for the prize.
If the committee agrees you will be informed accordingly(but do not be so sure...it is committee's decision.)
Poll: What time can you come for the tourney?
| | | |
| --- | --- | --- |
| 9:00 | | 1 |
| 10:00 | | 2 |
| After 12:00 | | 5 |
| Total: | 100% | 8 vote(s) |