Well, this was a tough time, getting through that migration, but we're slowly getting back on our feet! Winter's also progressively leaving us, which opens up a lot more opportunities to come~!
Lower Participant Limit!
With that said, we would first like to formally announce that
the participant limit for approved WBO events has been decreased to

7

instead of eight
. However, the issues that justified the number eight all this time remain, so lowering it to seven comes with certain differences:
Only the Gold Face will be distributed, not the Silver and Bronze Faces;

Only the following achievements will get Credits: participation (1), hosting (1), first place (2).

Hopefully this'll at least prevent those unfortunate circumstances where there's just one person missing at a tournament and that the whole thing has to be canceled! Let's also hope this makes it easier for a few areas to start a local Beyblading scene!
By the way, there are still BeyStadiums Attack Type available for 20$, so make sure you know the
Organized Play Rulebook
and
Event Guide
by heart, gather 'round your people, and submit an
Event Proposal
!
Face Contest: Design a WBO T-Shirt results!
Hey no, it's not those dreaded Scavenger Hunt results quite yet, but they're just as expected! That's right, here are finally the names of the winners of the T-Shirt Face Contest!!
To refresh our memories, contestants had to create a design that ideally didn't use copyrighted images, that represented Beyblade and the World Beyblade Organization, and that can be used on a straight-coloured T-shirt. There were really great entries, but only three could be chosen as the winners! And those winners are...
...
...
...
username2130
!
...
Aɴɢʀʏ Fᴀᴄᴇ
!
...
And
Phantom Indo
!
Congrats! You guys can choose one of the following Face Boosters:
-

Face Booster RED


-

Face Booster BLUE


-

Face Booster GREEN


-

Face Booster ORANGE


-

Face Booster YELLOW


-

Face Booster PURPLE
Tell us what you want right in this thread!
... What is this, you say? One person's supposed to get their design printed on a T-shirt? Yuppers! That's right, and it'll be...
...
Aɴɢʀʏ Fᴀᴄᴇ
!
Sweet job! Please send us the highest resolution of your design by contacting
Kai-V
by private message. Make sure to post a photo of it (perhaps with you inside it!) once you receive your rightful T-shirt!
Scavenger Hunt Results
This year's Scavenger Hunt was definitely filled with many events! From complete undesired downtime for 48 hours to complete undesired downtime of Beywiki for weeks, we went from a deadline of January 4th to January 21st - we certainly stretched out the festivities! At least, it really gave a chance to a lot of you to get off your Bottoms, gain some velocity and participate!
Before revealing the winners and their scores, let's see what those frustrating answers were!
Find the fact on worldbeyblade.org or Beywiki!: "What will these serve for?" (2 Points)




+

Of course, it's for a Bey Sky Tree!

Find the fact on Beywiki!: "What is the size of the smallest BeyStadium?" (1 Point) 3.7 cm, why not! http://wiki.worldbeyblade.org/index.php?..._Deck_Case

Find the fact on worldbeyblade.org!: "What are the holidays in Beyblade?" (1 Point)

BeyDays, HMS & Plastics Remembrance Day and the WBO Anniversary! We also accepted Brad Day when mentioned, of course.



Find the fact on worldbeyblade.org!: "Which Face vanished!?" (1 point) Only one person got the right answer! It was the Glass Face: http://worldbeyblade.org/Thread-WBO-Face...#pid671279

Find the fact on worldbeyblade.org!: What is the most common pair of Track and Bottom and how many times was it released? (2 Points)

We accepted answers of 145D with over ten releases, as well as 105F if you had counted 28 of them.



Find the fact on Beywiki!: The cut of quick death. (1 Point) A whooping 60° or 30°, depending on how you see it: it was Q, of course! http://wiki.worldbeyblade.org/index.php?...tom:_Quake

Find the fact on worldbeyblade.org!: Which Beyblade recently underwent a considerable name change? (2 Points)

Pumpking instead of Bumpking! More or less recently and debatably considerable, but only changes to original and not dub names were accepted.



Find the fact on worldbeyblade.org!: Which Beyblades are for thuggin'? (1 Point) Aries and Quetzalcoatl! http://worldbeyblade.org/Thread-Pictures...5#pid83865 http://worldbeyblade.org/Thread-Attachme...pid1208924 Subtle inside joke...

Find the fact on worldbeyblade.org!: How many people participated in tournaments in May 2011? (2 Points)

587 entries, wow! We accepted all answers above 500.




Aaaah! They weren't super easy this year, but those who got the right answers can be proud to have really earned those points!


And now, the moment you have all been waiting for...

...





Scavenger Hunt Prizes





13th to 15th Place:

Metal Face set of your choice

Blakedude1 (6), BradB116 (6) and Dual (6)
!!
8th to 12th Place:

Zero-G Starter of your choice
Tri (10), RagerBlade (9), Scout25 (7), Manicben (7) and Wombat (6)
!!
7th Place:

Big Bang Pegasis F Asia Model + Face Booster VIVID

Pegasus 78610
with 14 points!
+
5th-6th Places:

Orojya Revizer T125JB AND Saramanda Ifraid DF145BS + Face Booster VIVID

Leone19
with 24 points, and
The Supreme One
with 18!
OR
3rd-4th Places:

BBG-24 OR BBG-25 Beyblade Ultimate Synchrom DX Sets + Face Booster VIVID

AquilaClassik
and
ashton pinto
, both with 25 points!
2nd Place:

Custom-colored Beyblade by Leone19, of your choice + Face Booster VIVID

Honey
, with 29 points!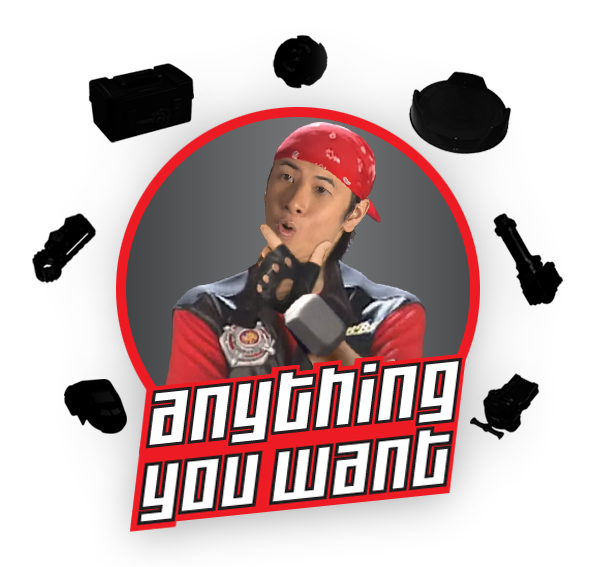 (graphic by Aɴɢʀʏ Fᴀᴄᴇ, wow!)
1st Place:

~ANYTHING YOU WANT~

+ Face Booster VIVID

Time
, with 32 points!!!
Congratulations everybody!! You can claim your prize by sending a private message including your full name and address to
Kei
!
Lest we forget, those points also serve another purpose than placing you in order in the scoreboard. You can also obtain the
Face Booster VIVID

for
8 points
, even if you've already earned one as part of your top-tier prize! It contains the following possible Faces:





Besides that Face Booster, you can also exchange your points obtained in the Scavenger Hunt for the following:
These Face Boosters cost
6 points
each.
Face Booster RED

Face Booster BLUE

Face Booster GREEN

Face Booster ORANGE

Face Booster YELLOW

Face Booster PURPLE

And these,
5 points
each:
Face Booster CRIMSON

Face Booster AZURE

Face Booster AMBER

Face Booster VIOLET

Face Booster JADE

On top of that, all who have been able to obtain
3 points
at least will soon be given the amazing Anniversary Face 2014!!
As you might notice, we changed the design slightly to reflect the actual 6th Anniversary logo. In any case, as soon as we fix a small but surprisingly hollow issue in the Face system, it'll be adorning your beautiful profile!
So with all of this said, here's the rest of the scoreboard!
Angry Face : 6
TitanTactic7 : 6
Fireblaze420 : 6
OldSchool ™ : 6
JesseObre : 6
Rayxnikhil : 6
AdityaTheBlader : 6
Yashpinto : 6
Shido-kun : 6
SarabScientist : 6
Eminem* : 5
Caos. : 5
Lawesomeness : 4
Geetster99 : 4
Sniper : 4
Ksaaadia : 4
Beymaster 15963 : 4
Stars : 4
OnTheDL : 4
Mega Manbeast : 4
Priscient : 4
Shido's Dad : 4
PhantomGod : 4
Yondu : 4
Haspro : 4
Frosh : 4
Dad19 : 4
Mom19 : 4
KM4ADB : 4
CopperSpark : 4
Ejam : 4
Philturn : 4
Morkad : 4
Maximum Dranzer : 4
Sildron : 4
Mateenlakhani : 4
Dolph : 4
Omkar lotliker : 4
Super phantom : 4
Nikhil2 : 4
UltimateOrion : 4
Pyrus10000 : 4
Dark_Mousy : 4
As the tradition goes, post your Face Booster choices right here in this topic, and we'll make the Faces rain!!
---
In conclusion, we'd like to thank you for your patience during all the migration and server stabilizations! It wasn't easy on anyone, for sure, and we hope to perfect this whole situation shortly.
However, what could help us is if everyone did their best to clean up some of their old private messages. We've found out that the sheer amount of private messages our database held represented HALF of everything, which is insane if you think about it. Therefore, if you were still holding on to thousands of private messages, try deleting most of them please! There's a way to download them for achive, but right now might not be the best time for everyone to request huge downloads at once to our server, unfortunately!
By the way, we're still in that shocking winter, but start prepping yourself for... BeyDays 2015!