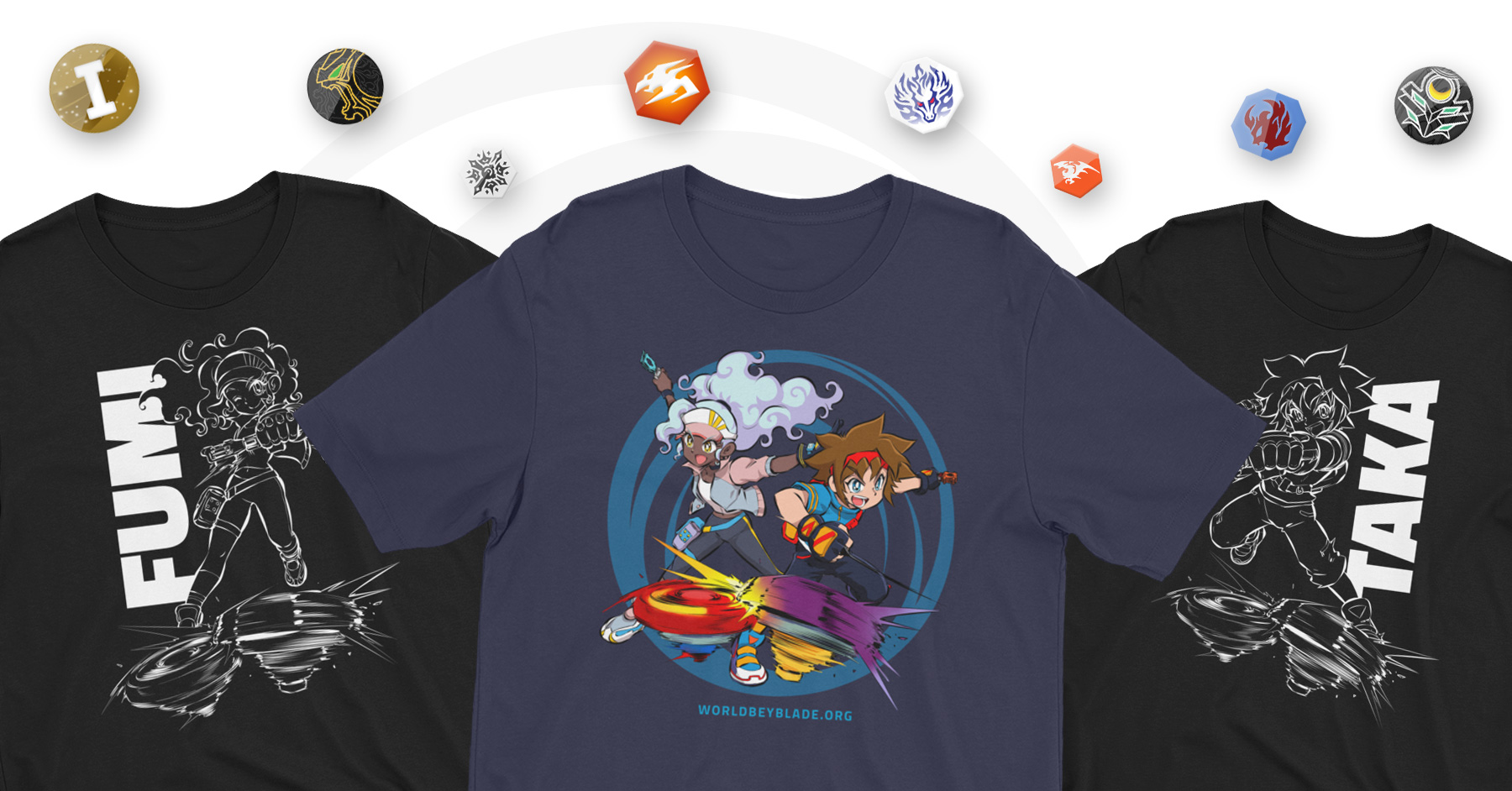 Today we revealed our worldbeyblade.org redesign and complete rewrites of most of our rule books and resources, all in the name of creating a better experience for all bladers. It couldn't come at a better time: Beyblade Burst is already out in Canada, and a worldwide release is mere just on the horizon. We'll experience a huge boom in membership, and we're excited to take it on.
But
our investment in the future has left
us little for the present, with our funds hitting their lowest levels in years. We're asking bladers everywhere to help our volunteer organization keep running amazing events, giving away tons of great Beyblade gear, and building the ultimate online experience for Beyblade fans.
And speaking of great Beyblade gear … we worked with Takafumi Adachi, creator of Metal Fight Beyblade/Beyblade Metal Fusion, to create original character artwork for the World Beyblade Organization. (More info on that
here
.) This crossover between one of Beyblade's legendary artists and the passion of a fan community is monumental, and we're thrilled to make it available to you.
As you can see above, we've made some
awesome t-shirts
 using Takafumi's artwork, along with this great double-sided tote bag: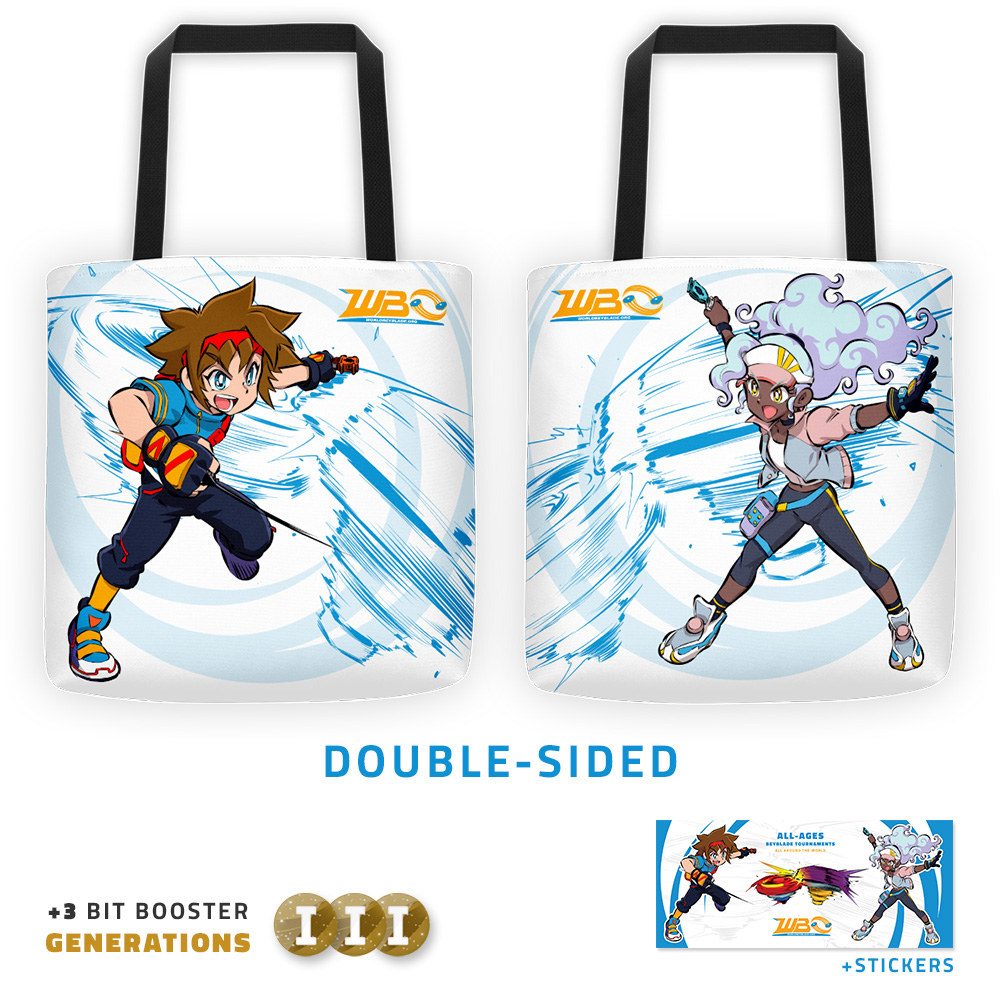 Get any WBO x Takafumi Adachi t-shirt or tote bag for $35 USD
and receive 3x Bit Booster Generations Vol. I — a collection consisting of highly sought-after Bits from all eras of Beyblade's history, old and new!
Bit Booster Generations Vol. I is also available to anyone who'd like to make a donation of $5 (x1) or $10 (x3).
Just send a Paypal donation to donate@worldbeyblade.org and include your username in the note.











Your contributions make it possible for us to do cool stuff on the web (as you've seen today), fulfill our goals of shipping kits full of Beyblade gear and organizer resources to local Beyblade communities, and run bigger and better events at a time when we are most poised for success.
---
Finally, for those most dedicated lifetime bladers, we're making available the
Eternal Passport
: a lifetime membership to WBO Beyblade tournaments and Passport-exclusive giveaways.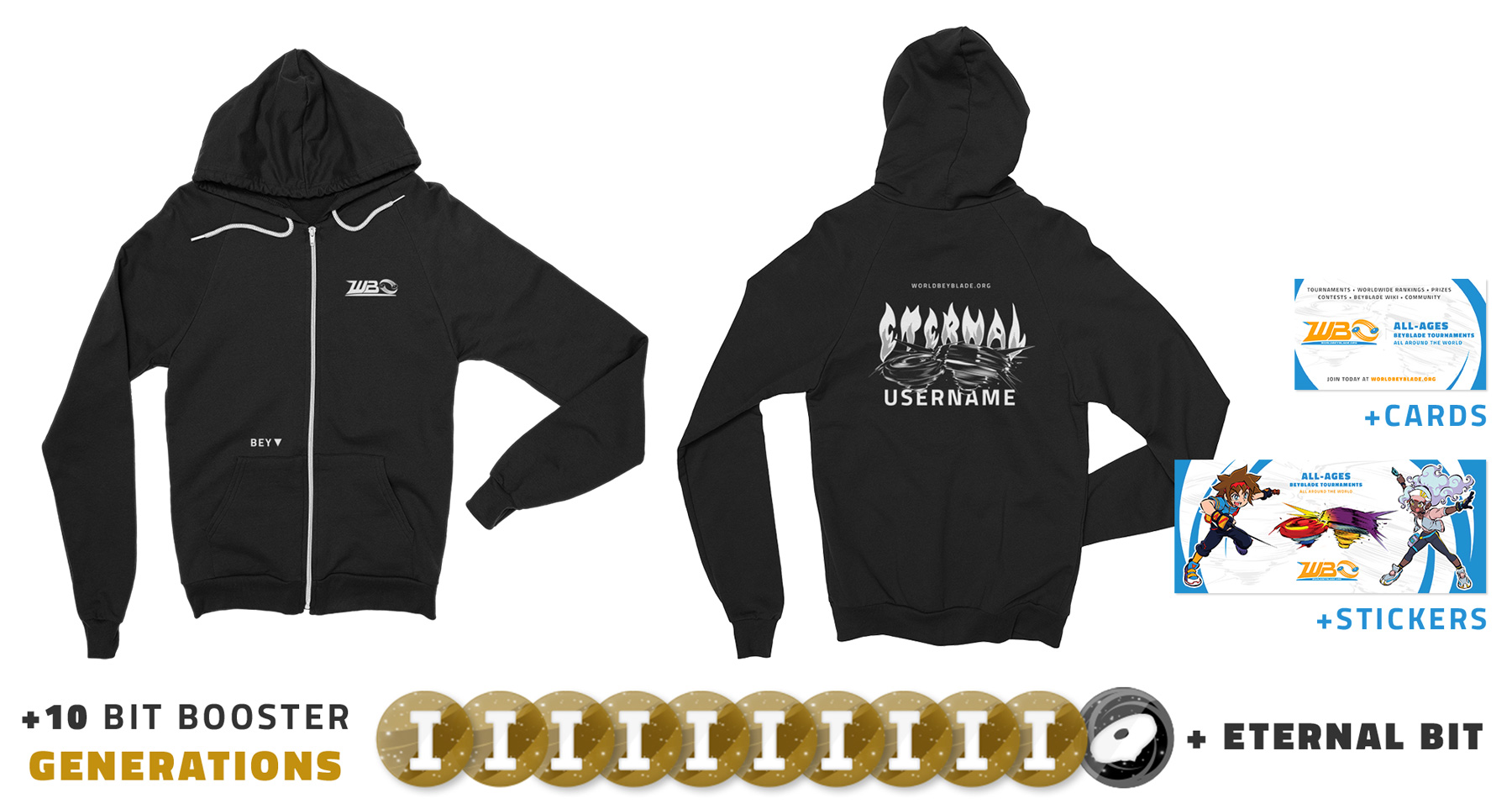 In exchange for your generosity and dedication, you'll also receive the Eternal Bit and an exclusive WBO x Takafumi Adachi "Eternal" Hoodie,
complete with custom username detailing on the back
, along with WBO cards and stickers.
When I founded worldbeyblade.org, it was already my third attempt to create a Beyblade tournament organization. I had toyed with the idea before, under the name International Beyblade Association, but it just never clicked. Until 8 years ago, it did. It did and all of this crazy stuff happened and now we're here.
We built an international Beyblade tournament-sanctioning organization, complete with online battle tracking. We worked with the artist of Metal Fight Beyblade. We're basically making anime real, here. The WBO is the only place on earth where this could happen, and the generosity of our community is what has made that possible so far.
So if you can, please consider showing your support at this time when we need it most, while getting a killer piece of Beyblade history to keep with you. (But if you want something to keep with you for free, check out the
Taka & Fumi thread
, where we've made some wallpapers available!)