Maximum Impact
Plantation, FL
Burst Classic Format Unranked
Liberty Tree Park
7421 NW Fifth St
, Plantation, FL 33317
Pavilion on east side of the park, near the restrooms
10:00am on 08/06/2023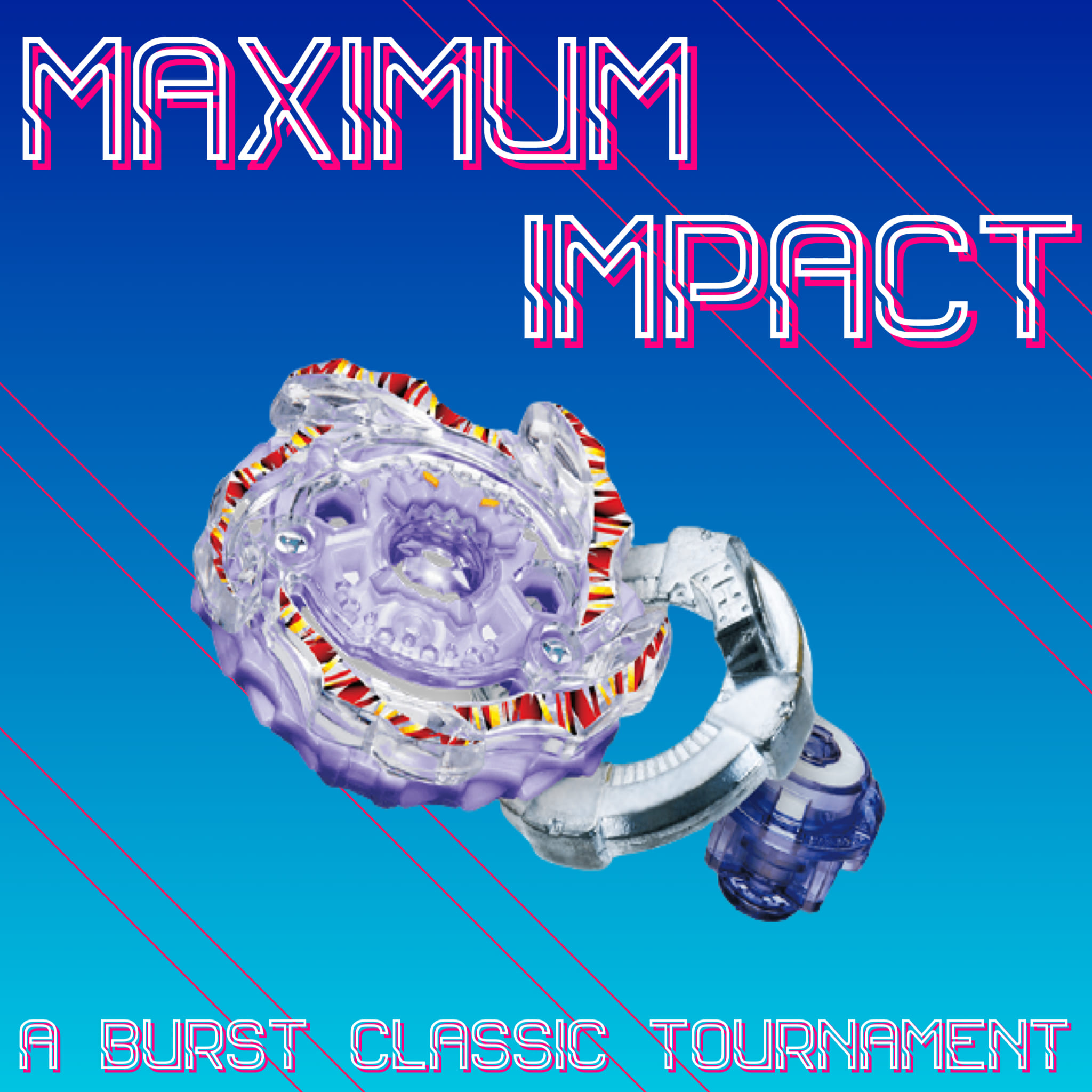 Beyblade X is right around the corner
BUT
before we get into the new generation let's take it back to where the last generation started -
Burst Classic!
Come join
SupaDav03
 for
Maxim Impact - A Burst Classic Tournament
. The event will feature single & dual layer Beyblades. The risk of bursting is high and every match has you on edge.
Please take a look at the Burst Classic rulebook if you are not sure which Beyblades are legal for this format. I will have many Beyblades available for use should anyone need to borrow Beyblades.
BURST CLASSIC RULEBOOK:
https://docs.google.com/document/d/13dKt...yD1YY/edit
We'll have great prizes for the Top 3 and something for our other competitors as well.
We hope to see you out there for a fun, throwback tournament! 
Format:
Burst Classic, ranked
When:
Sunday, August 6th @ 10:00AM
*All Bladers must arrive at least 15 mins prior for registration. Those arriving after 10am will not be permitted to join*
Where: 
Liberty Tree Park - 7421 NW Fifth St
Plantation, FL  33317
Host:
SupaDav03
Co-Host:
HouDeani9204
Judges:
SupaDav03
,
Nate725
,
Zach216
Prizes:
Top 3 - various Burst Classic Beyblades
Additional Considerations: 
-This is an outdoor event in the Florida sun/heat, so please bring a water bottle, sunscreen, a beach blanket or chair to sit on, and a snack. 
-These events typically take 3-4 hours to complete. Please make sure you can stay for the entirety of the tournament before signing up.
-This is an all ages event, so expect your child to compete against Bladers of all ages; Yes, even adults!
-My judges are volunteers who will call the matches as fairy and and as accurately as possible. WE DO NOT RECORD ANY MATCHES FOR JUDGING PURPOSES. Any arguing or attempt to influence the judges will result in the Blader being removed from the tournament.
Need-to-Know Information 1. During Registration,
Open Your Account Page
Open your account page on your mobile device (if possible) during registration to help us keep things quick.
2. Arrive On Time
You must arrive by the tournament start time to enter. We cannot add new players to an event once it begins. If you're running late, contact the host.
3. Stay Aware of Your Belongings
We do everything possible to ensure a safe environment, but can't be held responsible for lost or stolen goods. Keep your gear close by!
4. The Tournament Will Last At Least a Few Hours
This event is likely to last at least a few hours. If you can't commit to the entire tournament, you're welcome to come watch and play for fun instead!
5. Listen For Your Username To Be Called
Your name will be called when it's time for your next battle. If you need to leave early or take a break, tell a judge. Missing a match could mean disqualification!
6. Players Must Meet Regional Product Age Restrictions
All players in this event must meet the age restrictions on Beyblade products in their region. TAKARA-TOMY recommends Beyblade for ages 6+. Hasbro recommends Beyblade for ages 8+. Players under these ages may only participate with the permission of their parent/guardian.
7. Players Under 18 Must Be Accompanied by a Parent/Guardian
If you are under 18 years old, a parent/guardian must accompany you and be present for the duration of the event.
8. Contests, Raffles, Gambling, Betting, and Selling Are Prohibited
Advertising the sale of any product or service, as well as posting about any contest, raffle, gambling, or betting on this event page and conducting them at the event without approval by Fighting Spirits Inc. staff is prohibited. Please contact the Organized Play team if you require approval.
9. Terms of Service
All event attendees and users of this website are subject to our Terms of Service.
This event has been approved.
I would like to apologize to all registered Bladers. There was a mixup on the location of the tournament. It was 100% my fault.

I meant to post Liberty Tree Park but accidentally used the address for Fig Tree Park a few blocks away. I great apologize. Any Bladers still interested in participating can come to Liberty Tree for a Club Format Classic Tournament.

Again, my apologies to all.
Congrats to
TristanPortu
and
Juandre
for placing 1st & 2nd in the Club Format Classic Tournament. It was a lot of fun. Hopefully you all enjoyed it as well.
Special thanks to
HouDeani9204
for co-hosting & providing prizes.