Dranzer Spiral

,

Driger Slash

and

Draciel Shield

are now confirmed to be released as Burst Beyblades by Takara-Tomy, in late 2016!
October 2016 -

Driger S.H.F (Heavy Fusion)

will be one of the eight Beyblades that you can get in the Random Booster Vol. 4, for 972 yen.


November 2016 -

Dranzer S.S.T (Spread Trans)

will be available as an exclusive wbba. store item in Japan, for the cost of 972 yen.


November 2016 -

Dragoon S.W.X (Wing Xtreme)

- A CoroCoro Aniki Exclusive Recolour Ver. will be offered as a mail order item in the 11/15 CoroCoro Aniki issue meant for an older audience than the regular CoroCoro magazine.


December 2016 -

Draciel S.C.P (Central Press)

will be included in the Random Booster Vol. 5, for 972 yen.
It is unknown so far how the regular Dragoon S.W.X will be released.
All remade Layers have slightly modified designs, as can be seen by this picture showing the old, Plastic model on the right and the new Burst remodel on the left: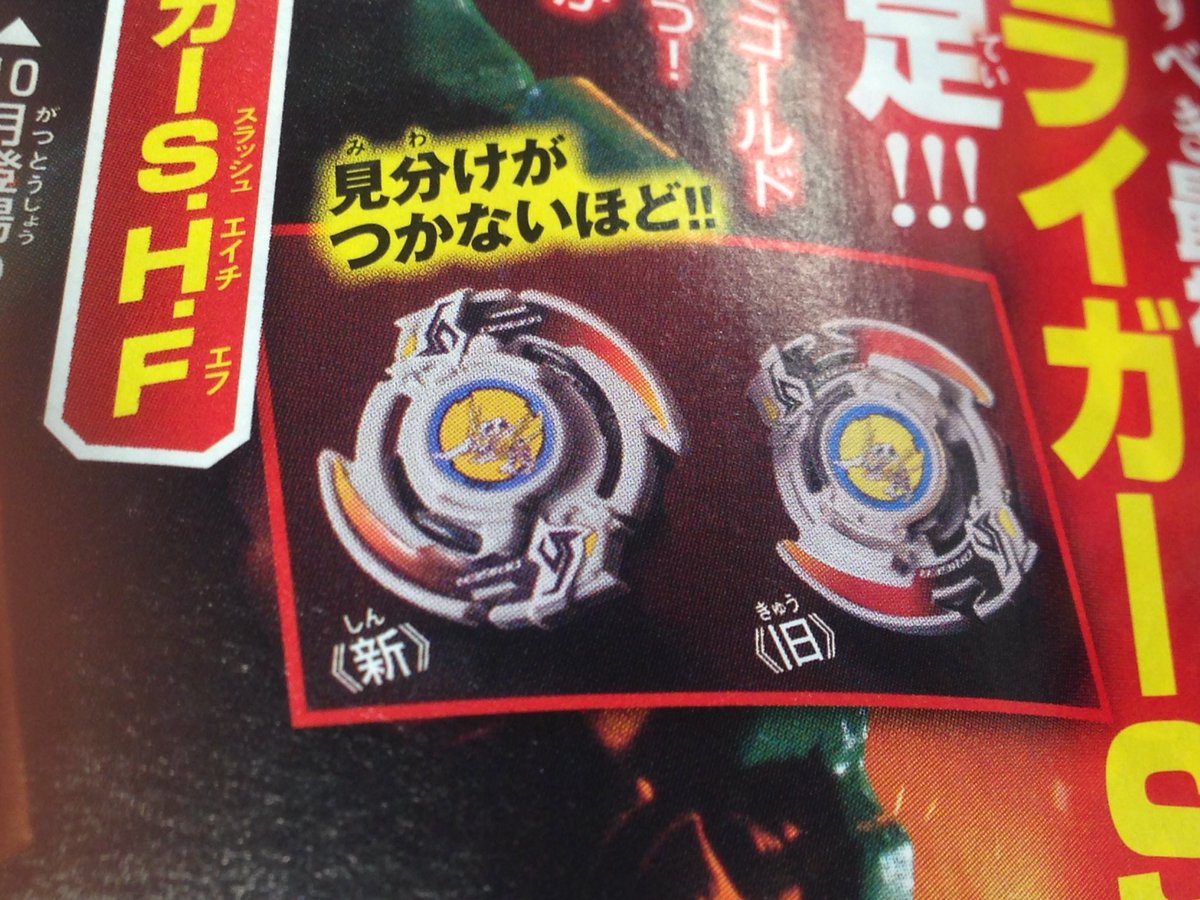 TAKARA-TOMY has been extremely aware of the recent resurgence of activity from Bakuten Shoot Beyblade fans, from videos uploaded to YouTube to an increase in the number of tweets and online messages posted about that first generation of Beyblade. This is also why they made the conscious decision to open tournaments for all ages in Japan since the beginning of Beyblade Burst!
A golden logo has been created by TAKARA-TOMY to commemorate the re-releases; it reads "15th Beyblade Animation":
On July 2nd 2016, TAKARA-TOMY also opened a call for 100 people ages 16 and above to participate in a promotional video related to Beyblade Burst, most likely concerning this throwback to legendary Beyblades whose audience has now aged above the target audience for Beyblade Burst.
http://www.takaratomy.co.jp/event/eventl...extra.html