[CANCELLED] Route to BWC: Lightning Launch
Orlando, FL
Burst Format Ranked
Wyndham Orlando Resort International Drive
8001 International Dr
, Orlando, FL 32819
A ticket to Lightning Launch is required to participate in this event. Get your tickets on www.BeybladePremier.com/tickets
1PM on 05/06/2023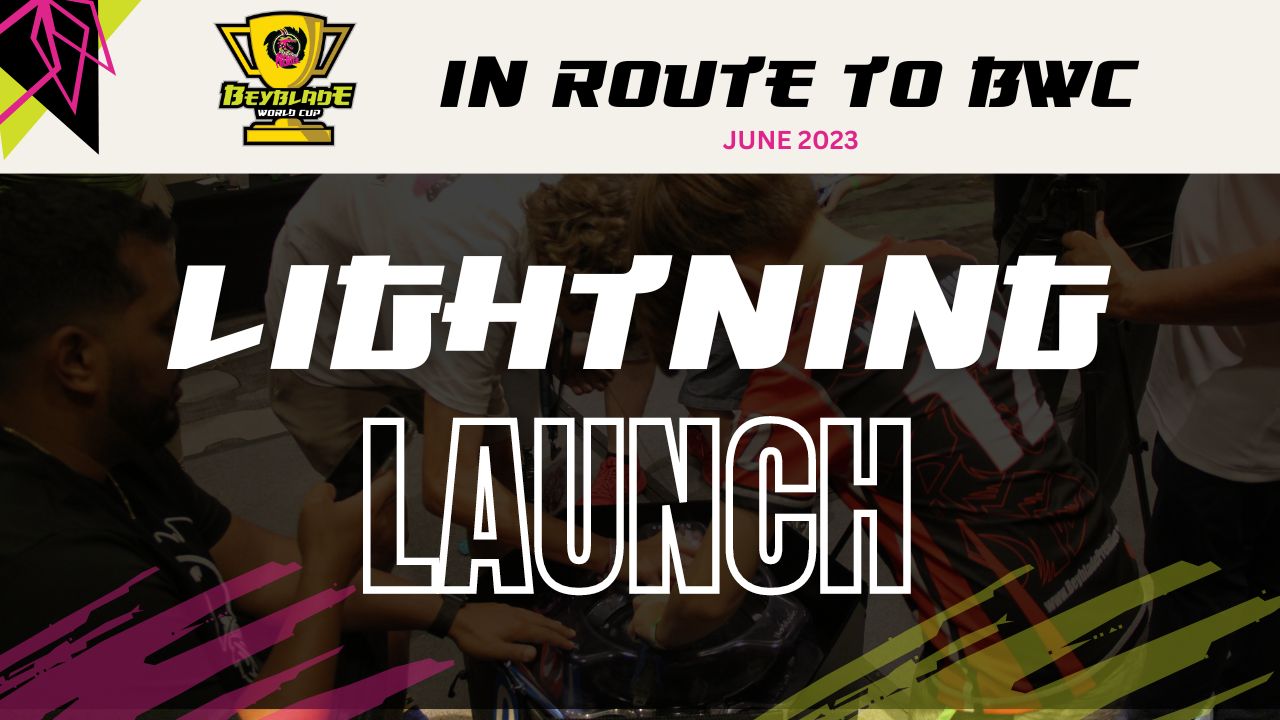 ---
BEYBLADE PREMIER PRESENTS:
Route to BWC:
Lightning
 Launch
Saturday, May 6, 2023 in Orlando, FL
---
---
BEYBLADE PREMIER
is the host and organizer of the biggest and most competitive Beyblade tournaments in USA. Here is where the WBO highest ranked bladers bring their finest performances in a fun and competitive environment.
All ages welcome! It does not matter if this is your first time playing in a tournament or if you are a seasoned pro player; there's fun for everyone! This Beyblade community is the best there is and we're only growing by the day!
We guarantee that you will leave with the new friends and an amazing memories.
---
REGISTRATION & PARTICIPANT CAP: 32 PLAYERS
---
Participant Cap
While everyone will be welcome to spectate and participate in free play, there will be a participant cap of 

32

 Players.
To confirm your spot in the event:
First, purchase your tickets to LIGHTNING LAUNCH.

Please make sure to include your WBO username on the "cart" page before checkout.



Then, after your purchase, our staff will add you to

this

tournament page as a participant.

We will send your e-tickets via email. Make sure to use a valid email when making your purchase. Check your SPAM folder as well. If you have not received your e-tickets 7 days before the event, please reach out to support@beybladepremier.com or holla to Conce7

Please note:

Spectators tickets will be limited and subject to space availability. Get yours early to secure your entry to the event.

T
ickets purchases will close as soon as we either have
 32 players.
**

You may request to cancel your ticket(s) for a full refund up to May 1, 2023. Cancellations between 5/2/2023 and 5/6/2022 will receive full store credit in www.beybladepremier.com. In the unfortunate event that Beyblade Premier or Marriott Hotels cancels the event before 5/6/2022, each player and spectator will receive a full refund in 24 hours or less of the announcement. When you register for this event, you agree to these terms.
---
You only need to buy the player's ticket in order to get added to the tournament. Once your purchase is completed, your username will get added to the tournament.
---
---
D
ate:
May 6, 2023 @ 1:00 PM EST
Location:

Wyndham Orlando International Drive
Tournament Schedule:

See Below
This is an all-day event. Please plan accordingly.  There are many food options around the venue, including the hotel.
Format: P3C1

 - Swiss (Burst Standard)
Age Bracket:

 

There are no age limitations in WBO Tournaments.



Free Play:

We will have a designated free play area for spectators, testing, and in-between battles.
We have prepared a full day of excitement for attendance and players.
Schedule:
09:30AM - 10:45AM:

Check-in Available for Genesis Numero Catorce

11:00AM - 1:15PM:

Genesis Numero Catorce (unranked)

1:00PM - 4:30PM:

Road to Beyblade World Cup: Lightning Launch (ranked)

---
---
First Place:
1st Place Trophy / B-205 VS Set 
Second Place:
2nd Place Trophy / B-206 Barricade Lucifer 
Third Place:
3rd Place Trophy / B-206 Barricade Lucifer 
---
RULES & RESOURCES:

Please follow all WBO Rules and please be respectful to the venue.
- Burst Format Rulebook
- Event Photography Policy
- Account Registration Guide
MUST READ: COVID-19 Requirements in Effect
Due to COVID-19, all tournament participants and attendees are required to abide by the requirements outlined and linked in full detail below. If you do not, you may be asked to leave the tournament area. Thank you for your understanding and stay safe!
WBO COVID Guidelines: Please click here.
1. Feeling unwell? Stay at home.
2. Wearing a mask or face covering is optional.
3. Do not lend or play with others equipment.
4. During beyblade inspection, disassemble beyblades for judges.
5. Only bladers registered before the tournament day may participate.
6. Eliminated from the tournament? Enjoy other activities around the venue.
Need-to-Know Information 1. During Registration,
Open Your Account Page
Open your account page on your mobile device (if possible) during registration to help us keep things quick.
2. Arrive On Time
You must arrive by the tournament start time to enter. We cannot add new players to an event once it begins. If you're running late, contact the host.
3. Stay Aware of Your Belongings
We do everything possible to ensure a safe environment, but can't be held responsible for lost or stolen goods. Keep your gear close by!
4. The Tournament Will Last At Least a Few Hours
This event is likely to last at least a few hours. If you can't commit to the entire tournament, you're welcome to come watch and play for fun instead!
5. Listen For Your Username To Be Called
Your name will be called when it's time for your next battle. If you need to leave early or take a break, tell a judge. Missing a match could mean disqualification!
6. Players Must Meet Regional Product Age Restrictions
All players in this event must meet the age restrictions on Beyblade products in their region. TAKARA-TOMY recommends Beyblade for ages 6+. Hasbro recommends Beyblade for ages 8+. Players under these ages may only participate with the permission of their parent/guardian.
7. Players Under 18 Must Be Accompanied by a Parent/Guardian
If you are under 18 years old, a parent/guardian must accompany you and be present for the duration of the event.
8. Contests, Raffles, Gambling, Betting, and Selling Are Prohibited
Advertising the sale of any product or service, as well as posting about any contest, raffle, gambling, or betting on this event page and conducting them at the event without approval by Fighting Spirits Inc. staff is prohibited. Please contact the Organized Play team if you require approval.
9. Terms of Service
All event attendees and users of this website are subject to our Terms of Service.
This event has been processed.