THE *GINGA* BIRTHDAY BASH
Silver Spring, Maryland
Metal Fight Limited Format Ranked

1st

2nd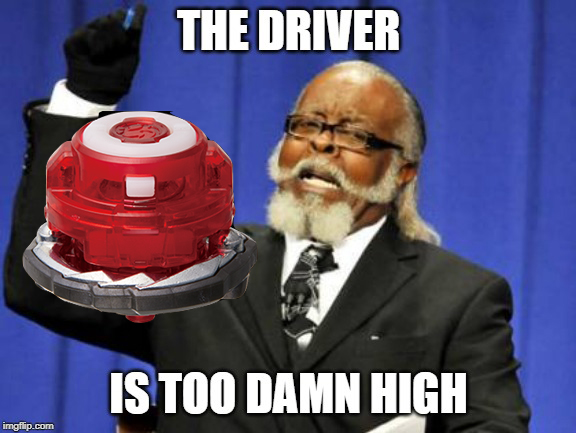 3rd
Tournament Results
Martin Luther King Jr. Park
1120 Jackson Road
, Silver Spring, Maryland 20904
Under the pavillion or on the grass.
12:15 PM on 10/01/2016
THE

*GINGA*

BIRTHDAY BASH
SATURDAY, OCTOBER 1st 2016
Martin Luther King Jr. Park
Burst Experimental Format, MFB Limited (UPDATED BAN LIST)
Directions/Additional Information
1120 Jackson Rd, Silver Spring, MD 20904. We will be playing either under the pavilion or on the grass.
Tournament Time:
Tournament Registration and Free Play will be starting around 11:15 AM, however we be starting the event at 12:15 PM. It would be appreciated, however, if attendees would be there at least a couple of minutes earlier so we can get the battles and or blocks ready beforehand. We'd like to get the tournament done as soon as we can, but if your going to be late PM me or post in this thread.
Entry Fees:
Tournament entry will cost five dollars a person, although if an extra ten is payed, a Blader Passport would be yours, along with a cool Passport Face online! Most importantly, though, free tournaments until your passport expires the following year. How cool is that! As you know it allows you to enter any tournament for the next year without paying the fee, as well as giving you the chance to participate in whatever contests or giveaways the WBO may offer.
SPECIAL ENTRY FEES NOTE
Because we will be running the Burst Experimental Format, entry in the Burst tournament IS ABSOLUTELY FREE. While it is unranked, there are many other benifits including
Entry is

free

for everyone

Faces and Credits are included (except Shards of Amaterios)

All entrants will be entered into a Hasbro-themed BeyLotto! Details below.

Please discuss these changes and direct any questions you may have to the
Experimental Tournament Format Changes Discussion
thread.
That's right! There is a Hasbro themed BeyLotto for ALL PARTICIPANTS of this experimental format! More details
here
.
Updated MFB Limited Banlist
Gravity is UNBANNED

Dark Knight/Ronin is BANNED

Side Note:
Please, PLEASE, PLEASE keep a hold on each and every part you own. We'd like to avoid thefts of all types, from Beyblades to game systems and laptops. Keep all your personal belongings close to your person at all times; do not leave them hanging around, as they are YOUR responsibility, and the tournament staff cannot be held liable for thefts.
PRIZES
Besides the usual credits and Faces and the EXCLUSIVE BEYLOTTO, first place of each format will receive a FREE Beyblade Burst Random Booster Three! Additionally, as it my my birthday bash, you can expect free PIZZA and COOKIES!!!
Confirmed
*Ginga*
Yami
Sniper
geetster99
beymaster15963
Beyblade Strong
Maybe
Voqics
@[Tech] @[Yami] @[Sniper] @[BillyBlast] @[Hov] @[LikeABoss921] @[Fist] @[lawesomeness] @[OnTheDL] @[Coolblader#1] @[Super%Sayian] @[Greninja Master] @[Itachi] @[geetster99] @[Silva] @[Yamislayer] @[beymaster15963] @[DrPepsidew] @[Pruebame] @[Kaboom!!!] @[Angry Face] @[Havoc] @[Cool Blader] @[dylanslegos] @[kilgore] @[Dark_Mousy] @[[)ragon] @[Thunder Dome] @[Wombat] @[Axel Phantom] @[FLASH SGTO] @[razorrider7] @[BladerLight] @[G-SHOCK] @[Eipman] @[Fisto227] @[FangLeone130WB] @[BladerXYZ] @[TrollingBlader] @[TheGrimRipper13] @[Arupaeo] @[ZachBob] @[RagerBlade] @[Stormscorpio1] @[Leone 7] @[UltimateOrion] @[Ethan H] @[BeyCrafter] @[Larvatar23] @[~Eclipse~] @[Magic] @[RioluOmega] @[Team Meteor] @[Spin-Sonic] @[Joshil] @[Kai16] @[Jimmyjazz39] @[SnakeFang] @[PidgeotWiz] @[Beyblade Strong] @[Bumblebee159] @[reeceroosters] @[BeyBeard] @[Leone19] @[Leone 7] @[Cye Kinomiya] @[Joshil100] @[Morkad] @[The Supreme One] @[Raiyanblader] @[BladerLight] @[DJ_Wyvern] @[Titan Tite] @[Naijalak] @[KnightPro] @[Stamina.] @[Ironeye7] @[EthanQ42] @[beymomdelaware]
Need-to-Know Information 1. During Registration,
Open Your Account Page
Open your account page on your mobile device (if possible) during registration to help us keep things quick.
2. Arrive On Time
You must arrive by the tournament start time to enter. We cannot add new players to an event once it begins. If you're running late, contact the host.
3. Stay Aware of Your Belongings
We do everything possible to ensure a safe environment, but can't be held responsible for lost or stolen goods. Keep your gear close by!
4. The Tournament Will Last At Least a Few Hours
This event is likely to last at least a few hours. If you can't commit to the entire tournament, you're welcome to come watch and play for fun instead!
5. Listen For Your Username To Be Called
Your name will be called when it's time for your next battle. If you need to leave early or take a break, tell a judge. Missing a match could mean disqualification!
6. Players Must Meet Regional Product Age Restrictions
All players in this event must meet the age restrictions on Beyblade products in their region. TAKARA-TOMY recommends Beyblade for ages 6+. Hasbro recommends Beyblade for ages 8+. Players under these ages may only participate with the permission of their parent/guardian.
7. Players Under 18 Must Be Accompanied by a Parent/Guardian
If you are under 18 years old, a parent/guardian must accompany you and be present for the duration of the event.
8. Contests, Raffles, Gambling, Betting, and Selling Are Prohibited
Advertising the sale of any product or service, as well as posting about any contest, raffle, gambling, or betting on this event page and conducting them at the event without approval by Fighting Spirits Inc. staff is prohibited. Please contact the Organized Play team if you require approval.
9. Terms of Service
All event attendees and users of this website are subject to our Terms of Service.