Valt Aoi: Character Arc Breakdown: To Reach Infinity...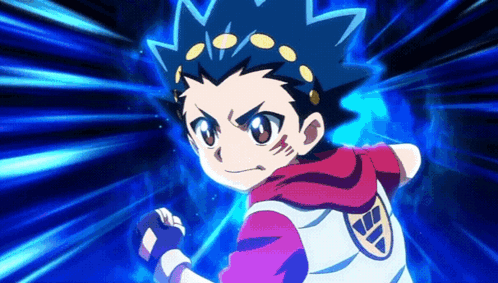 Arc Breakdown Part 1: To Reach Infinity...Conquer Doubt

.
Obstacles are often likened to mountains for a number of reasons; the problems in front of us seem impossible to scale or extraordinarily difficult to get to the other side of, just as it's hard to pass through a mountain with no opening, or scale over one that dwarfs even skyscrapers. Both obstacles are external, but one of the most challenging obstacles to overcome lies not just without but also within. For Valt, that obstacle was self doubt. It was the conquest of this mountain, among other major hurdles, that led him to become the blader that now sits atop the Blading World.
Valt's character theme is potential, the ability to become all manner of things in the future. In order to reach infinity. The only way forward to fulfill his seemingly limitless potential, was to scale his doubt.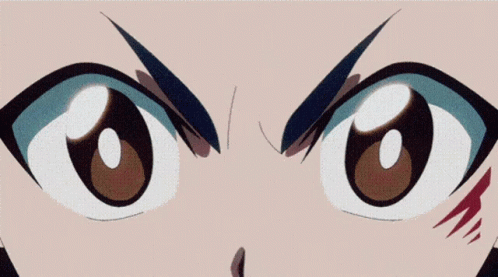 On his journey to the top of the Blading world, Valt often found himself measured as less than capable by his competition. They underestimated him. Sadly this external output caused an internal struggle, and this is something Valt deals with across his two seasons as the MC in a variety of scenarios.
Time after time he kept running into this obstacle and time after time it really took hold of him and impeded his progress. He faced this from one of his earlier competitors, Wakiya who callously stated his opinion that Valt didn't have what it took to become a great blader. Words that Valt took to heart. It blinded his vision and halted his progress.
"Sad but true not everybody is cut out to be a great blader."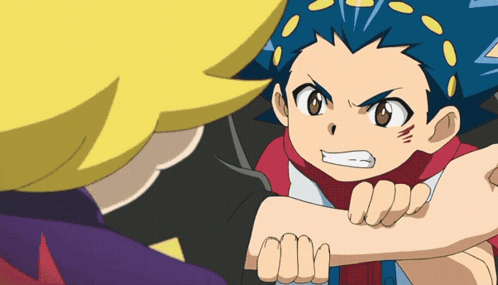 This had a real world effect on his ability to blade. His self doubt, triggered by this external source caused a problem within that shifted things without. 
During the team battle arc he again began to question his ability and worth. This was further compounded by Lui, Japan's No. 1 Blader, when he made clear his belief that Valt was a terrible blader.
We see this in S2 during the shake up at BC Sol and their mounting losses.
You're a terrible blader, you're not cut out for this, you're out of your league. All that constant noise left Valt deaf to what was actually important, his goals, his ambitions, his relationship with Valtreyk and blind to his own value and abilities.
By the time he reached the end of the International Bladers Cup, All the noise has fallen away, and the only thing he hears is Valtreyk. That ringing in his ear that he was out of place had been silenced as he stood before Shu at the finals, one step away from his goal. 
Even as Shu tells him to give in, that it's already decided, Valt stands resolute, no longer a victim of doubt, but standing on real confidence that he acquired over the course of his journey. He wasn't the same boy who crumbled, lost himself when people fanned the flames of doubt in his head or when others watered the seeds of misgivings growing in his mind. 
To think, that this boy, who had been crippled by self doubt would become a legit Legend in the Blading world, the Legend of Legends. He worked hard for each milestone, earned every single victory on his way to becoming the strongest blader in the world.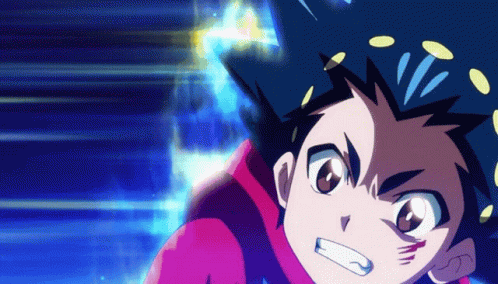 It was only through refocusing his vision on what was actually important, by building real confidence not only in himself, but in his own abilities, by letting the noise fall away, was he able to move forward. Only through conquering doubt could he reach infinity.
━━━━━━━━━━━━━━━━━━━━━
Character Arc Breakdown: Part 2: To Reach Infinity...Walk Your Chosen Road

.
Throughout Burst we've come across many powerful characters; Lui, Free, other members of the Big Five and Shu being prime examples. Each of these bladers made their own choices on how they were going to go about achieving their goals and each of them achieved a great deal of blading prowess in return. And it was in that mass of competing ideals that Valt struggled.
After witnessing Shu, and then Free's losses to Lui Shirosagi and experiencing the same loss himself, Valt began to question the direction he was taking to reach his goals. In essence he was in conflict with himself as to whether he should walk his own road or that of the others who had grown so powerful through their own style of blading, through their chosen road.
Raul remarked that the only way forward to greater power, to true dominance in the Blading world required one to give up the things one used to think we're important, to put emotions away, even if that meant seeming cold-hearted and distant, that it was the only way.
It wasn't the only way, that was Shu's way. That's what he decided to do when he threw away the joy he got from Blading to gain greater power, to reach this level of perfectionism he established for himself.
In order to reach the level of Blading people like Shu had achieved, Valt began shifting his approach to Blading out of a frustrated desire to be a challenge to Shu. This attempt untimely didn't yield results and affected his Blading negatively. Why? Because it was the polar opposite of Valt's nature and his natural path.
Valt came to realize he didn't have to pursue that path, that he had all the tools to decide for himself how he was going to move forward as a person to achieve his goals. He didn't need to mimic anyone else's way.
Kris puts it perfectly. "Over the course of this tournament I've reflected on who Valt really is inside. He's truly one of a kind, that's the tyoe of blader I want to put my hopes in. I always learn new things from him. When he beat Cuza he showed us that winning isn't everything. Having fun with your friends is important. With his enthusiasm, good sportsmanship and free spirit he's taught me that the journey to becoming the best is about more than skill and strength. That's why Valt deserves to go to the final and triumph over Shu."
He could chart his own course, something Free reminded him of. He learned he didn't have to throw away the things that made him who he was in order to achieve his goals and dreams, that he could achieve real power, free from corruption or doubt. He didn't have to rely on the opinions and ways of others to determine who he was going to be. He could decide for himself.
He could continue to be who he was, to continue to draw on everything he learned, every obstacle inside and out he overcame to reach his potential.
Valt's character theme is potential, and he had to overcome his own self doubt, and win his battle with his own identity to reach the top of the blading world, to fulfill his seemingly limitless potential, to finally reach infinity.