Nightwing's Deck Tournament - 12.03.22 @ 12p || Bring Three Burst Beys / DB Stadium
Forestville, Maryland
Burst Format Ranked
8
bladers registered (16 maximum)
View All
Nightwing's Gaming Loft
7898 Cryden Way
, Forestville, Maryland 20747
Indoors
12:00 PM on 12/03/2022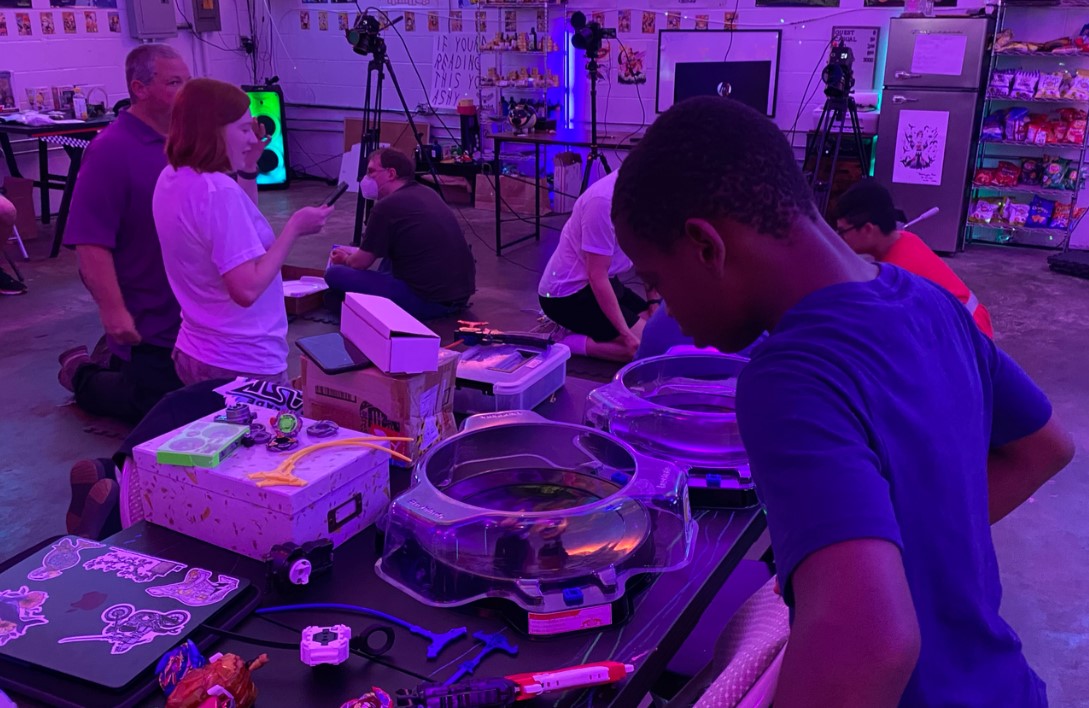 Format
: The format for this event is Burst Standard Deck Format. Please read the RULEBOOK prior to confirming your attendance to ensure that you or your child have the appropriate equipment to compete. Legal parts / launchers will not be lent out by event staff.
Rules Overview
: Each blader comes with their three best beyblades, shows them to their opponent, chooses one beyblade, and battles to see who is the stronger blader. After the first battle the loser has the option to force a rematch or have their opponent to switch / stay with their beyblade. This goes on until one blader scores five (5) points.
Location
: This event will be held indoors at Nightwing's Gaming Loft, located at 7898 Cryden Way, Forestville, Maryland 20747.
Stadium
: DB Stadium
Time
: As the tournament will start around 12pm, please plan to arrive around 11:30am when registration will begin. Confirming your attendance on the WBO event page does not substitute for registration at the venue.
If you know in advance that you will be late, please post in this thread or contact someone at the event (240.838.7730) and depending on the circumstances we can perhaps still include you if we know you will arrive soon.
Participants
: There will be a cap of 16 participants; but feel free to still show up even if the limit is reached, there are always folks not showing up the day of, plus we have video games and gaming PCs you can play if you're into that.
Prizes
: Will be given to the 1st, 2nd, and 3rd Place blader after the finals have been completed.
Parents
: I'll try have a pair of massage therapists set up in our front office if you'd like to get a professional chair massage done while you wait.
COVID-19 Precautions READ THIS BEFORE CONFIRMING YOUR ATTENDANCE:
This event will cooperate with Montgomery County Reopening Guidelines, as well as the WBO Covid-19 Guidelines effective from last year.
Prizes:
TBD
Need-to-Know Information 1. During Registration,
Open Your Account Page
Open your account page on your mobile device (if possible) during registration to help us keep things quick.
2. Arrive On Time
You must arrive by the tournament start time to enter. We cannot add new players to an event once it begins. If you're running late, contact the host.
3. Stay Aware of Your Belongings
We do everything possible to ensure a safe environment, but can't be held responsible for lost or stolen goods. Keep your gear close by!
4. The Tournament Will Last At Least a Few Hours
This event is likely to last at least a few hours. If you can't commit to the entire tournament, you're welcome to come watch and play for fun instead!
5. Listen For Your Username To Be Called
Your name will be called when it's time for your next battle. If you need to leave early or take a break, tell a judge. Missing a match could mean disqualification!
6. Players Must Meet Regional Product Age Restrictions
All players in this event must meet the age restrictions on Beyblade products in their region. TAKARA-TOMY recommends Beyblade for ages 6+. Hasbro recommends Beyblade for ages 8+. Players under these ages may only participate with the permission of their parent/guardian.
7. Players Under 18 Must Be Accompanied by a Parent/Guardian
If you are under 18 years old, a parent/guardian must accompany you and be present for the duration of the event.
8. Contests, Raffles, Gambling, Betting, and Selling Are Prohibited
Advertising the sale of any product or service, as well as posting about any contest, raffle, gambling, or betting on this event page and conducting them at the event without approval by Fighting Spirits Inc. staff is prohibited. Please contact the Organized Play team if you require approval.
9. Terms of Service
All event attendees and users of this website are subject to our Terms of Service.