---
Join us on Saturday, January 18th, 2020 for a Toronto Beyblade Burst Tournament at
Anime Shogatsu
for the fifth straight year!
If you can make it, please
hit the blue "JOIN TOURNAMENT" button
at the top of this page! See further registration guidelines below. See you there!
---
Anime Shogatsu Membership Required
Please note that to enter the convention and gain access to our event, a membership for Anime Shogatsu 2020 is required.
Purchase your Anime Shogatsu 2020 membership online here
. Memberships are also available at the door (starting at 9AM for $25), but we recommend purchasing online ahead of time.
Kids 10 and under are admitted for free, however they would need to be accompanied by a parent/guardian with a membership purchased.
Tickets at the Door: Special Offer for WBO Members
If you don't buy a ticket online, Anime Shogatsu has created a special offer for WBO members 13 years and older: tickets at the door will be $20 instead of $25, but you MUST let them know you are attending the Beyblade tournament.
---
Participant Cap: 100 Players
While everyone will be welcome to spectate and participate in free play, there will be a participant cap of 100 Players on this tournament due to limited space, time, and staff.
To confirm your spot in the event,
hit the blue "JOIN TOURNAMENT" button
at the top of this page.
Additional Registration Guidelines
Day-Of Check-In Required:

All players will be required to check-in with our tournament staff at the entrance to the JCCC before 11:30AM

. Our tournament staff will be set up right beside the pick-up area for your membership pass.


Late Arrivals:

If you arrive after 11:30AM, you will not be able to enter the tournament (but are welcome to participate in free play).


Have Your WBO Account Open On Your Phone

: During check-in, be sure to have your WBO account page open on your phone so we can verify your username quickly.


Posting/PMing Will Not Secure Spot:

Posting in this thread or private messaging the host will not confirm a spot in the tournament. You must follow the instructions above.


Day-Of Registration:

Registration on the day of the event for people who don't confirm a spot beforehand will be possible if spots are available.


Signed up and can't make it? Let us know:

If you end up not being able to make it to the event, please post here to notify the host so we can you from the tournament bracket and open up a spot for someone else. Players who sign up on this page and do not show up at the tournament without any notice may be warned in accordance with our Community Rules. Thanks for your understanding!

---
Need-to-Know Information Sheet
Some of this information is covered below, but we will also be handing out the following need-to-know information sheet on the day of the event. It covers key topics related to the organization of this event to ensure everyone is on the same page.
You may read it then, or get a head start right now:
---
Schedule
Our room will be open for the majority of convention hours on Saturday at Anime Shogatsu. We'll be running one tournament with the remainder of time dedicated to free play for new and intermediate Bladers.
Registration

(at JCCC Entrance): 10:00AM–11:30AM


☆

Tournament Start

: 12:00PM


Tournament End

: 6:00PM (Approximately)


During All Room Hours

: Free Play for all Attendees

---
Challonge Tournament Bracket
We run all of our tournaments using tournament management software called Challonge.
Click the button below to view the tournament bracket page for this tournamnt. You can us this to follow along during the event.
---
No Bey? No Prob!
Don't have any Beyblades from the Beyblade Burst series? No problem! We would be happy to lend a Beyblade and launcher to you to use for your tournament matches!
---
Have a BeyStadium? Bring it!
We will be bringing stadiums for this event, but more are always welcome! Any BeyStadium is fine for free play, but
BeyStadium Standard Types
(pictured below) are particularly appreciated. If you can bring one, please post here to let us know.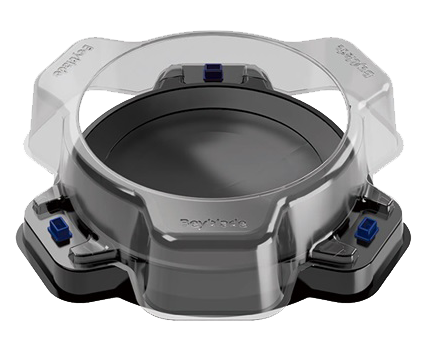 ---
Not sure what to expect?
Check out this report from our tournament at Unplugged Expo 2019 (also at the JCCC)!