Sunday, May 28th, 2023 – OPTION #2: BURST STANDARD (ATTACK DRIVERS ONLY) 
---
ABOUT BEYBLADE NORTH 2023
---
BEYBLADE NORTH 2023
 allows for players of all ages and skill levels to come together and play Beyblade! Compete in our Beyblade Metal Fight and Beyblade Burst tournaments or play just for fun in our free-play section at Anime North 2023 on May 26th, 27th and 28th in Hall B at the Toronto Congress Center.  
This page will cover the
Burst Standard (Restricted Driver)
 event on May 28th, 2023
 (see legal Beyblades below). Whether you're a brand new blader or a seasoned veteran, we welcome players of all skill levels to participate.
If you have any questions about our event itself, please feel free to post them here!
For more information about Anime North 2023, please:
---
MUST READ: COVID-19 Recommendations in Effect
---
Due to COVID-19, all tournament participants and attendees are recommended to abide by the recommendations outlined and linked in full detail below. Thank you for your understanding and stay safe!
1. Feeling unwell? Stay at home.
2. Wear a Mask or Face Covering
3. Thumbs Up Instead of Handshakes
4. Do Not Lend or Play with Others Equipment
5. During Beyblade Inspection, Disassemble Beyblades for Judges
6. Do Not Bring More Than 1 Person With You
7. Maintain Physical Distancing (2 meters/6 feet apart)
8. After each Match Judges Should Disinfect Stadium
9. Only Bladers Registered Before the Tournament Day may Participate
10. Eliminated from the tournament? You should leave the tournament area.
Please see additional event information and any local or federal requirements below.
The health and safety of each participant in this event will be our top priority. We expect all participants to abide by any requirements outlined on the page linked below.
This event is being hosted in accordance with the WBO's COVID-19 event recommendations outlined above, as well as:
---
REGISTRATION & PARTICIPANT CAP: 32 PLAYERS
---
Participant Cap
While everyone will be welcome to spectate and participate in free play, there will be a participant cap of 
32
 Players
 on this tournament due to limited space, time, and staff.
How to Register
To confirm your spot in the event:
Then, 

hit the blue "JOIN TOURNAMENT" button

 at the top of this page. Do not join if you have not purchased a ticket yet.

Additional Registration Guidelines
Be Early Rather Than Late:

 If NORTH '22 was any indication, lines can go on for quite a while. Do your best to prepare ahead of time to get into the convention with time to spare. Either through mail-in passes (via Anime North's website) or simply arriving well in advance.


Day-Of Check-In Required:

 All players will be required to check-in with our tournament staff at the entrance of our booth in Hall B of the Toronto Congress Centre before the tournament start time.


Late Arrivals:

 If you arrive after 11:00AM, you will not be able to enter the tournament (but are welcome to participate in free play).


Have Your WBO Account Open On Your Phone

: During check-in, be sure to have your WBO account page open on your phone so we can verify your username quickly.


Posting/PMing Will Not Secure Spot:

 Posting in this thread or private messaging the host will not confirm a spot in the tournament. You must follow the instructions above.


Day-Of Registration:

 Registration on the day of the event for people who don't confirm a spot beforehand will be possible if spots are available on a first-come, first-served basis.


Signed up and can't make it? Let us know:

 If you end up not being able to make it to the event, please post here to notify the host so we can open up a spot for someone else. Players who sign up on this page and do not show up at the tournament without any notice may be warned in accordance with our Community Rules. Thanks for your understanding!

---
---
This is a 
BURST STANDARD (BST
) Format 
event using a
SPECIAL DRIVER RESTRICTION
. Please refer to the rulebook link below to review legal equipment you can bring:  
On top of this, the
DRIVER RESTRICTION means your combos MUST include any of the following on this list and NO others
:
Quote:Accel, Accel', Metal Accel, High Accel', Assault, Assault', Blow, Blow', High Blow', Hold, Hold', High Hold', Impact, Jaggy, Jaggy', High Jaggy', Quake, Quake', Spiral, Spiral', Variable, Variable', Xtreme, Metal Xtreme, Xtreme', Destroy, Metal Destroy, Destroy', Hunter, Hunter', Iron, Reboot, Reboot', Ultimate Reboot, Ultimate Reboot', Volcanic, Volcanic', Evolution, Evolution', Jolt, Jolt', Sword, Sword', Charge, Charge', High Charge', Ignition', Metal Charge, Metal Charge', Power, Xceed, Xceed', Xceed+Z, Xceed+X,Xceed'+X,Xceed'+Z, Venture, Venture+V, Venture+VS,Almight, Almight+D/Almight+S/Almight+D+V/Almight+D+VS/Almight+S+V/Almight+S+VS,Xplosion, Xplosion',Shot, Adventure, Adventure+V, Adventure+VS
---
MATCH TYPES: 1on1 & WBO Deck
---
First Stage – 1on1 Match Type
The first stage of this tournament will be played using the 
WBO Pick 3, Choose 1 (P3C1) Match Type
Final Stage – WBO Deck Match Type 
The top eight players from the first stage will advance to a single elimination final using the 
WBO Deck Match Type
 rules.
---
---
Our booth will be open for the majority of convention hours across both Friday, Saturday, and Sunday at Anime North. We'll be running at least one tournament on each day, with the remainder of time dedicated to free play for all Bladers.
This event page is for the Sunday event:
Sunday, May 28th – OPTION2: BURST STANDARD (ATTACK DRIVERS ONLY) 
Registration: 10:15AM–10:45AM


☆

 Tournament Start: 11:00AM

Tournament End: 3:00PM (Approximately)

During All Booth Hours: Free Play

Our other events at Anime North 2023:
Friday, May 26th – DB STADIUM SUDDEN DEATH 
Registration: 5:15PM–5:45PM


☆

 Tournament Start: 6:00PM

Tournament End: 10:00PM (Approximately)

During All Booth Hours: Free Play

Saturday, May 27th – RANKED BURST STANDARD
Registration: 10:00AM–11:45AM


☆

 Tournament Start: 12:00PM

Tournament End: 7:00PM (Approximately)

During All Booth Hours: Free Play

Sunday, May 28th – OPTION 1: RANKED METAL FIGHT LIMITED
Registration: 10:15AM–10:45AM


☆

 Tournament Start: 11:00AM

Tournament End: 3:00PM (Approximately)

During All Booth Hours: Free Play

---
LOCATION: TORONTO CONGRESS CENTRE - HALL B
---
All BEYBLADE NORTH 2023 events will be hosted in our space at the back of Hall B in the Toronto Congress Centre. Please see the highlighted area on the map below:
We will be in the southeast corner of Hall B (same spot as previous years). And here is the floor plan for our booth:
The exact layout is subject to change and may appear different depending on time, staff, or event restraints on a given day, but we will try to keep things as close to the above as is permitted.
---
---
As is tradition, the top three players in each event will earn prizes for their exceptional play in the tournament.  
Burst Attack Driver Only (Sunday #2) Prizes:
1st Place - B-189 Booster Guilty Longinus Karma Metal Destroy-2
2nd Place - B-206 Booster Barricade Lucifer Illegal Bearing Mobius-10
3rd Place - B-00 Booster Astral Hello Kitty Over Revolve'-0
---
MAKE SURE TO BRING YOUR BEYS!
---
In some of our previous events we have lent out Beyblades and Launchers for people to use, but for BEYBLADE NORTH 2023 there will be no loaned Beyblades.  
You must bring your own Beyblades to be able to participate in these events
 – make sure to read the rules carefully to know how many you'll need and what is legal for a given tournament format.
---
HAVE A BEYSTADIUM? BRING IT!
---
We will be bringing stadiums for this event, but more are always welcome!
Any BeyStadium is fine for free play, but 
Burst BeyStadium Standard Types
 (pictured below) are particularly appreciated. If you can bring one, please post here to let us know.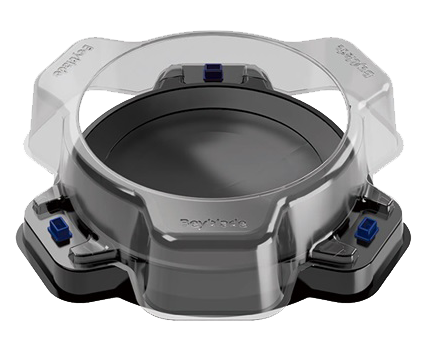 ---
TOURNAMENT BRACKET ON CHALLONGE
---
As always, during the tournament while 
we cannot give you a set time for when your next match will take place
, you are welcome to follow along with the tournament bracket on Challonge. Challonge is the management tool we use to run the event.
---
STAFF, JUDGES & VOLUNTEERS
---
As all Anime North's before it, this event would not be possible without the hard work of those on our team helping facilitate events (
as well as those who help from afar!
). Here is our list of Staff along with their roles as the weekend goes on:
Dan

 – Event Organizer, Head Judge, Social Media, Space Floor Manager, Match Announcer, Judge (Alternate)


JesseObre

 – Challonge Master, Match Announcer


LMAO

 – Challonge Master, Match Announcer


Justin TC

 – Registration Manager, Judge


originalzankye

 – Registration Manager, Marketing Manager, Alternate Head Judge, Judge


henwooja1

 – Registration Assistant, Judge


Abellia

 – Judge (Alternate)


ItsSwift 

– Judge (Alternate)


Cake

 - Judge (Alternate)


Tahoor

 – Judge (Alternate)


henwooja1's father

 – Exterior Tournament Area Floor Manager (Gatekeeper)

This list is subject to change, but should stay the same over the course of NORTH 2023. 
Make sure to turn to one of these people if you need any kind of assistance.
---
SOCIAL MEDIA COVERAGE – WE NEED YOUR HELP!
---
If you are willing to help out with shooting video and photos for this event, please send myself (Dan) or any of the other staff a message!  
If we are unable to get back to you before the event to discuss, any submissions of video or photos from attendees in general would be appreciated!
---
NOT SURE WHAT TO EXPECT?
---
Nervous? Not sure what to expect? Check out this video and a tournament report on BeyBase from our Anime North events a couple years back: