Join the Toronto Beyblade community for a 1-on-1 Metal Fight Limited Unranked Format tournament at High Park on October 9th, 2022 at 2:30PM.
This event will see the Pre-Hybrid Wheel System Libra Wheel (all molds) allowed for play. 
This is something I've had on my mind for a while now, as not always do our bans stay true or make sense as metas shift or progress. I've done extensive testing on this, you can check my YouTube for some of my findings -
including how PHW Libra does in Limited.
Be sure to read the Deck Format, and MFB Limited rules outlined below before attendance.
---
MUST READ: COVID-19 Recommendations in Effect
Due to COVID-19, all tournament participants and attendees are recommended to abide by the recommendations outlined and linked in full detail below.
1. Feeling unwell? Stay at home.
2. Consider Wearing a Mask or Face Covering.
3. Thumbs Up Instead of Handshakes
4. Do Not Lend or Play with Others Equipment
5. During Beyblade Inspection, Disassemble Beyblades for Judges
6. Do Not Bring More Than 1 Person With You
7. Maintain Physical Distancing (2 meters/6 feet apart)
8. After each Match Judges Should Disinfect Stadium
9. Only Bladers Registered Before the Tournament Day may Participate (Exceptions apply).
10. Eliminated from the tournament? You should leave the tournament area.
Please see additional event information and any local or federal requirements below. 
The health and safety of each participant in this event will be our top priority. We expect all participants to abide by any requirements outlined on the page linked below.
This event is being hosted in accordance with the WBO's COVID-19 event recommendations outlined above, as well as:
---
Check-in, Registration & Participant Limit (20) Details
Tournament Check-in Details
Check-in begins at 

2:00P

M

.

Check-in ends at 

2:3

0PM

. We will begin the tournament shortly thereafter, if not immediately. 

See more details under the "Need-to-Know Information" section at the bottom.

Registration & Participant Limit Details
This tournament has a maximum participant limit of 

20

 players

.

If you are certain you can make it, please hit the blue JOIN TOURNAMENT button at the top of this page to register confirm your spot! 

Once 20 players have registered, you will not be able to enter the tournament.

As such, only users registered on the list at the top of the event page can participate in the tournament. No exceptions.

If you are unable to make it to the event, DO NOT hit the "Join Tournament" button. If you need to withdraw, hit the UNJOIN/LEAVE TOURNAMENT button.

If something unexpected comes up last minute and you cannot come, please post in this thread. Any players who sign up on this thread and do not show up without any prior notice will receive a warning in accordance with our Community Rules.

---
Location
We'll likely be playing outside in the gazebo attached to the front of the High Park Nature Centre. 
This means that if you're coming to High Park via the Bloor St W entrance, follow Colborne Lodge Dr. down until you'll see the large gazebo on the left-hand side. Check the red pin on the map image below if you're still unsure. 
If we aren't in the gazebo out front or on the grass, check behind the Nature Centre as well, as there is another gazebo there.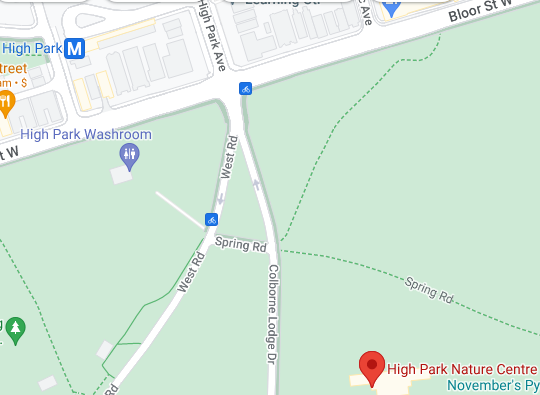 If you have any questions about the location, time, or date, please feel free to post about it below. 
Any updates to the venue location or rescheduling will be posted by me on the morning-of, at the latest. If you see nothing posted to the contrary, assume everything is continuing as outlined here.
NOTE:
 Public washrooms can be found just west of the Bloor St W entrance of High Park. There are no public washrooms available at the High Park Nature Centre. Do not knock on their door asking to enter. They don't like that.
---
First & Final Stage Match Formats
The First Stage of this event will be featuring the
1-on-1
 Match Type
. The Final Stage will use the 
WBO Deck Format rules
.
You can read more about the WBO Deck Format here
. 
If you have any questions please feel free to leave a response on this thread or PM me directly
.
*"Libra [Metal System]" will be legal for this event. Because of the event's experimental nature it is actually recommended for you to try and incorporate this wheel into your game plan if possible.
---
Have a BeyStadium? Bring it!
We will be bringing stadiums and some deck boxes for this event, but more are always welcome!
Any BeyStadium is fine for free play, but 
BB-10 Beystadium Attack 
Type's
 are particularly appreciated and will be used for tournament rounds. If you can bring one, please post here to let us know.
---
Tournament Bracket on Challonge
As always, during the tournament while we cannot give you a set time for when your next match will take place, you are welcome to follow along with the tournament bracket on Challonge. Challonge is the management tool we use to run the event.
[button=https://worldbeyblade.challonge.com/ ]First Stage Bracket[/button
[button=https://worldbeyblade.challonge.com/ ]Final Stage Bracket[/button