Registration & Participant Limit (32)
Registration Details
Registration begins at 1:00PM.

Registration ends at 1:30PM. We will begin the tournament shortly thereafter.

See more details under "Need-to-Know Information" below.

Participant Cap Details
This tournament has a maximum participant limit of 32 players.

If you are certain you can make it, please hit the blue JOIN TOURNAMENT button at the top of this page to register confirm your spot!

Once 32 players have registered, you may not be able to enter the tournament.

As such, 

only users registered on the list at the top of the event page will be guaranteed a spot in the tournament

 provided they arrive before registration ends.

If the participant limit is reached, any additional players may be added to a wait list on the day of the event and will be added into the tournament should any of the users registered online fail to arrive on time.

---
MUST READ: COVID-19 Recommendations in Effect
Due to COVID-19, all tournament participants and attendees are recommended to abide by the recommendations outlined and linked in full detail below. Thank you for your understanding and stay safe!
1.
 Feeling unwell? Stay at home.
2.
 Wear a Mask or Face Covering
3.
 Thumbs Up Instead of Handshakes
4.
 Do Not Lend or Play with Others Equipment
5. 
During Beyblade Inspection, Disassemble Beyblades for Judges
6.
 Do Not Bring More Than 1 Person With You
7.
 Maintain Physical Distancing (2 meters/6 feet apart)
8.
 After each Match Judges Must Disinfect Stadium
9.
 Only Bladers Registered Before the Tournament Day may Participate
10. 
Eliminated from the tournament? You must leave the tournament area.
Location
We'll be playing 
outside on the grass in front of the High Park Nature Centre
. See below:
If you're coming to High Park via the 
Bloor St W entrance
, just follow that road down on the right side and you'll see the large building/shelter on the left hand side before you reach the tennis courts. We will be playing in the area on the grass in front of it. If you have any questions about the location, please post here!
NOTE:
 Public washrooms can be found just west of the Bloor St W entrance of High Park. There are no public washrooms available at the High Park Nature Centre. Do not knock on their door asking to enter.
---
Tournament Bracket on Challonge
As always, during the tournament while we cannot give you a set time for when your next match will take place, you are welcome to follow along with the tournament bracket on Challonge. Challonge is the management tool we use to run the event.
---
No Bey? No Prob!
Don't have any Beyblades from this series? No problem! We would be happy to lend a Beyblade and launcher to you to use for your tournament matches!
---
Have a BeyStadium? Bring it!
We will be bringing stadiums for this event, but more are always welcome! Any BeyStadium is fine for free play, but 
BeyStadium Standard Types
 (pictured below) are particularly appreciated. If you can bring one, please post here to let us know.
*If you have an original MFB BB-10 Stadium, please bring it.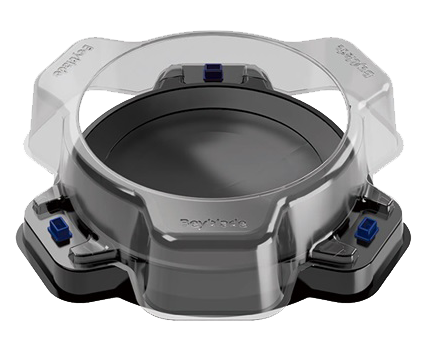 ---
Not sure what to expect?
Check out this video from one of our past events!